How NOT To Ask For A Guest Post- Lessons From Sophia Wright
I don't really talk a lot about blogging on The College CEO. Sure I touch on it every now and then when I talk about Affiliate Marketing, but I never really focus in on it. That's mainly because there are already plenty of great blogs out there all about how to blog like Pro Blogger and Copy Blogger. This site is more focused on my personal tips for making money online.
But earlier today, I received a request from someone that goes by the name Sophia Wright to submit a guest post on one of my blogs (not this one). As you probably guessed from the title of this post, the email was awful.
Instead of just deleting this one like I usually do, I decided to use it as an example of how NOT to request a guest post on someone else's blog.
A Little Bit About Guest Blogging
Getting posts on blogs that have a decent amount of traffic or a high page rank has a lot of benefits that affiliate marketers love. For one, they could potentially get some extra traffic to your site if you do it right. And then of course, the backlinks you get can help your SEO.
What makes guest posting so special?
Over the years, Google has pretty much shot down nearly every popular linkbuilding technique commonly used by affiliate marketers. Blog comments, profiles, article directories, and so forth. But one method that has continuously worked was guest posting on legitimate sites in order to get a link back to your own site.
Supposedly Google is being more vigilant about some of the more shady guest posting techniques being used by some marketers. Ironically enough, the people they're trying to stop are the same people that send out emails like the one I got from Sophia. But for the most part, it's still super effective in my experience.
The problem is that despite all of the info FREELY available online about how to reach out to bloggers for a guest post, people still suck at it. And Sophia Wright's email is a perfect example of what they're all doing wrong.
The Awful "Pitch" I Received From Sophia Wright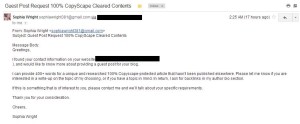 (Click to enlarge)
Here's the email for those who can't see the pic:
Subject: Guest Post Request 100% CopyScape Cleared Contents

Body:

Greetings,

I found your contact information on your website(http://mysite.com), and would like to know more about providing a guest post for your blog.

I can provide 400+ words for a unique and researched 100% Copyscape-protected article that hasn't been published elsewhere. Please let me know if you are interested in a write-up on the topic of my choosing, or if you have a topic in mind. In return, I ask for backlinks in my author bio section.

If this is something that is of interest to you, please contact me and we'll talk about your specific requirements.

Thank you for your consideration.

Cheers,

Sophia Wright
The Subject Line
What Sophia did wrong
Ok, so let's start with the subject line. "Guest Post Request 100% CopyScape Cleared Contents". For one, it's completely impersonal and generic. And then there's the whole "Contents" thing, which is either them being too lazy to check their writing (which is bad), or they're not so great at writing in English (also bad).
What you should do
Your subject line has one job- To get the blog owner to open up your email. PERIOD. So it has to be eye-catching and tempting. Don't make it too long or too wordy. Here's an interesting article from Hubspot on some memorable and great email subject lines.
And here's an infographic from Litmus about crafting email subject lines. It's primarily for businesses that do email marketing, but a lot of the concepts are useful here too.

(click to see full size)
The Greeting
What Sophia did wrong
Nothing says lazy like a generic greeting. And what's more generic than "Greetings"? It shouldn't really have to be said, but you should directly address the blog owner when you're asking them for a guest post. The blog Sophia was trying to get a post on has my name on the sidebar, so there's no excuse for not including it.
What you should do
Find out the blog owner's name, and include it in the greeting.
The Intro
What Sophia did wrong
The intro is probably the only part of the email that is close to good. It states why she's contacting me and what her intentions are. But it's clearly a generic intro sent out to hundreds or thousands of other blogs (probably automated). I know this because the blog name is in parenthesis, and she used the URL instead of the actual name of the site.
What you should do
You've probably caught on by now, but you need to personalize your introduction. Like Sophia, you should be direct and open about what you're looking for. Also, mention the actual name of the site you're trying to post on.
The Body/Pitch
What Sophia did wrong
Pretty much everything. She didn't mention anything about my actual blog. Again, totally impersonal. She didn't state why she's interested in posting on my blog. She didn't even mention what she might be interested in writing about which shows that this is just an email blast being sent out to multiple blogs.
Basically, she didn't even "pitch" me anything. She just asked for something and didn't explain how she would offer value to my blog outside of "400+ words for a unique and researched 100% Copyscape-protected article that hasn't been published elsewhere" which means absolutely nothing.
What you should do
PERSONALIZE your pitch. Talk a little bit about the blog, and what specifically interests you about their site. For example, if you were interested in guest posting on The College CEO, you might mention that you're a college student who recently got into affiliate marketing and this blog has helped you learn something (it never hurts to compliment the blog owner).
When I pitch to a blog owner, I usually include some potential blog topics that I think would fit in well with their specific site. As a blog owner, I'm much more likely to respond to someone who shows that they actually have read my blog and has an understanding of my audience/readers.
The more value you can offer them, the better. Offer to tweet the post out to your followers, do some kind of case study related to their niche, or offer to let them post on your blog in return. Just do something that goes above just writing a 400 word article that will pass Copyscape. That's like a car dealer trying to sell you a car by saying "I can sell you this car that has 4 tires and will drive".
The Closing
What Sophia did wrong
There was nothing memorable at all in the closing. No enthusiasm about posting on my blog, and it just sounds generic.
What you should do
Sound excited about the opportunity, and act like you really want it. Try something like:
"DJ, I'd really like to write for The College CEO. Please let me know if any of the topics I pitched sound good to you, or if you have some other topics in mind. I also followed you on Twitter and Google+, let's connect. P.S. the last post you wrote about Pinterest was awesome!"
Include links to your social networks and your blog at the end so that they know you're a real person and can see examples of your writing.
One Last Tip
Don't make up fake personas to pitch guest posts. This whole Sophia Wright character is clearly made up. Be genuine with people and you'll get a much better response.
It's a pitch. You have to offer some type of value to the blog owner and establish some sort of relationship with them. That way, even if they don't accept your pitch this time, you're on their radar and they know who you are. So next time, there's some familiarity and you can try again some other time.
And perhaps the biggest lesson to be taken from Sophia Wright's failed guest blog request is…..
DO NOT AUTOMATE GUEST POST REQUESTS!!!!!
FYI, that featured image on this post was the profile pic for the Sophia Wright Google+ page the email was sent from. Apparently Sophia Wright does guest blogging in between middle school science contests.