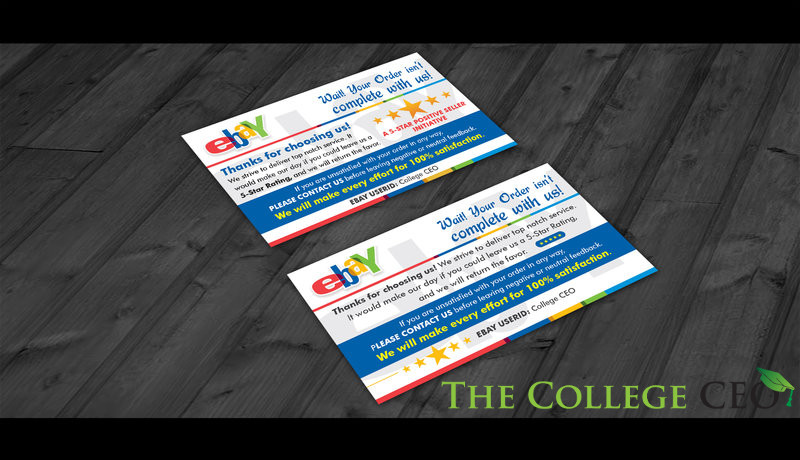 If you've sold on eBay before, you know how much of a hassle it is to get buyers to leave you feedback (unless they were unhappy). Once a buyer has gotten their order, they're usually not in a rush to go back on eBay and leave you feedback. In a lot of cases, they don't even think about it.
Having a good amount of positive feedback on eBay gives you some HUGE advantages:
More authority (buyers will think you know what you're doing)
Seen as more trustworthy
Discounts for becoming a TRS or Powerseller
More eyes on your listings
Increased sales
But if nobody is leaving you feedback, then how will you reap any of the kickass benefits above? You won't!
You see, the problem that  A LOT of eBay sellers make is they just list their item, sell it,  ship it, and end all communication with the buyer there. They leave it up to the buyer and the messages that eBay sends in order to remind customers to leave feedback. This is simply ineffective. If you want positive feedback, you have to ask for it.
That's where these nifty little feedback cards come into play. These Seller Thank You Feedback Cards are a great way to remind customers to leave you feedback and to throw a little personal touch into every order. You simply put one into every order you ship out. If you include packing slips for your orders, staple one of these cards right onto it and make sure it's the first thing the buyer sees when they open their package.
>>get your free cards!<<
Enter your email below to grab these kick-ass EBAY Feedback Card Templates for FREE!

What makes these cards better
You may have seen other eBay feedback cards before being sold on eBay. I've seen them too. That's why I decided to get my own made. What I noticed about all of the feedback cards being sold on eBay and other places is that they all look cheap and as if they were made in 1993. Just compare my design to this one or this one.
These cards (created by a designer I have been doing business with for years) have a much cleaner, more modern, and more professional look to them. I don't know about you, but I don't want my brand to be associated with an old, cheap, dated looking card. You'll notice the bright, vibrant colors that are meant to immediately catch the eye of the customer. Even the headline at the top reminds customers that they still have one more step left to go before the order is done. Everything on this card is designed to pop and stand out.
Not only that, but this design is 100% customizable!
What you get
What's included in this package are two designs, as you'll see below (my logo watermark is not in the design). You get the layered PSD files for both designs so that you can customize every aspect of them to match your brand and customer base. I've also included every font necessary to edit the text so that you don't get those annoying "missing font" messages when you try to change the text.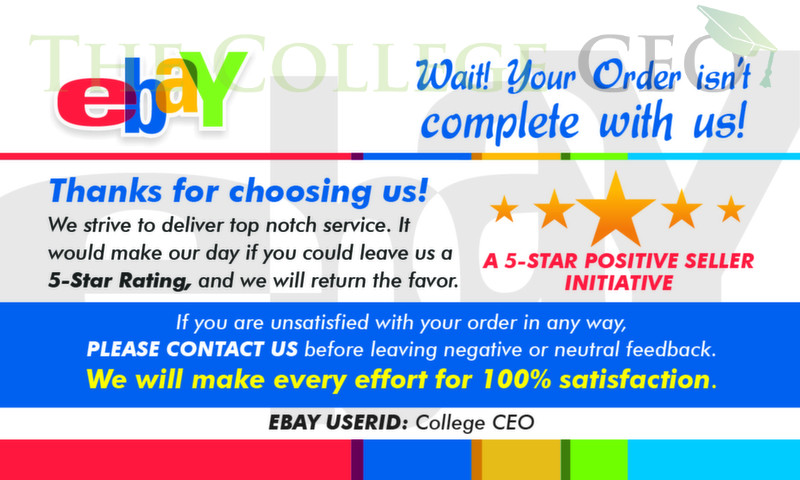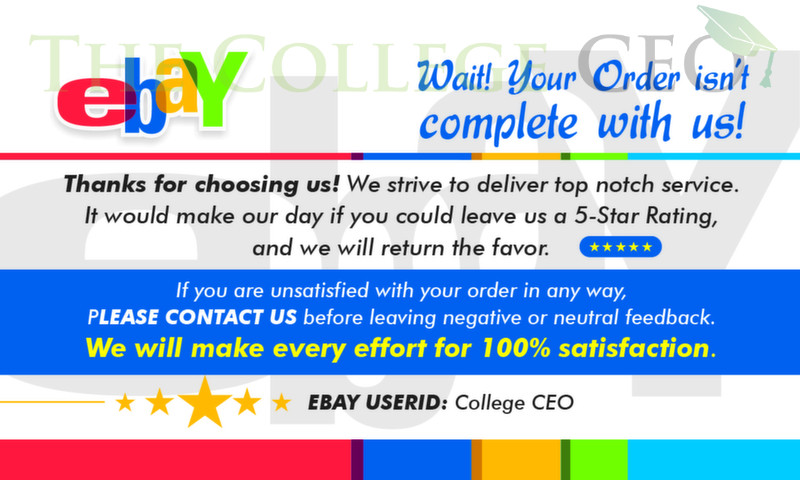 The best part about these cards is that I'm giving them away for free. All you have to do is enter your email below and I will shoot you over an email to download the templates. If you'd like to get your own custom design created, I can get you in touch with my designer who made these and he can create a unique design specifically for your eBay store (with your logo, colors, etc.).
The cards are the size of a standard business card. You can get them printed at your local print shop or your preferred online printer. Some options for getting them printed online are:
Moo– A little more expensive, but their quality and service is top notch
Vistaprint– Low cost, but I've had issues with their quality
U-Printing– I have not personally used them before, but I have heard good things about them
>>get your free cards!<<
Enter your email below to grab these kick-ass EBAY Feedback Card Templates for FREE!