The Great Battle of Domain Name Registrars!
Namecheap and GoDaddy are two of the most popular domain name registrars online. GoDaddy is what some people would consider the more "mainstream" company and Namecheap is more like the "people's" domain registrar. When I first started blogging and internet marketing, I used GoDaddy to register all the domain names I bought. This is primarily because it was the only company I knew of due to all the advertising they do. But is GoDaddy better than Namecheap? You'll have to read to find out!
Costs
There are a few different factors that go into this category. For one, GoDaddy's domain names always seem to be "on sale", so at any given time their prices could drop way below Namecheap.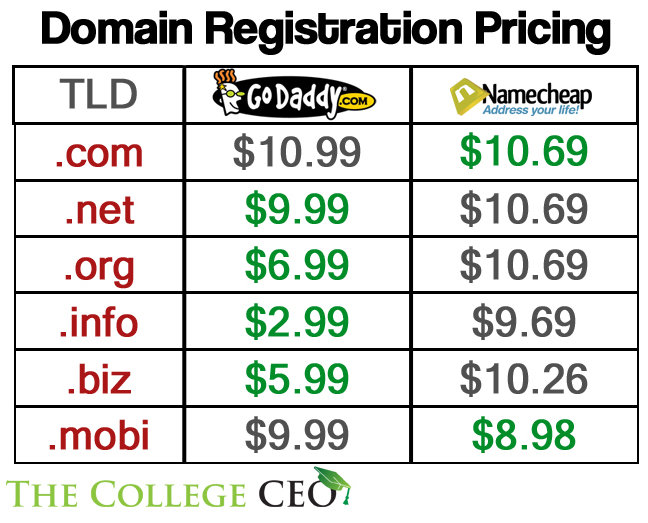 When you register a domain name with Namecheap, they include one year free Whois Guard which GoDaddy charges $9.99 for (they call  it Privacy Protection but it's the same thing). What Whois Guard or Privacy protection does is hide your information so that nobody knows that you own the domain name. Without this protection, people can use sites like Whois.com to see information about who owns a website.
Personally, I like to have Whois protection on my sites so nobody can see what I own, but ultimately it's up to you. I have Whois protection on The College CEO so when someone does a Whois search for my domain, it looks like this.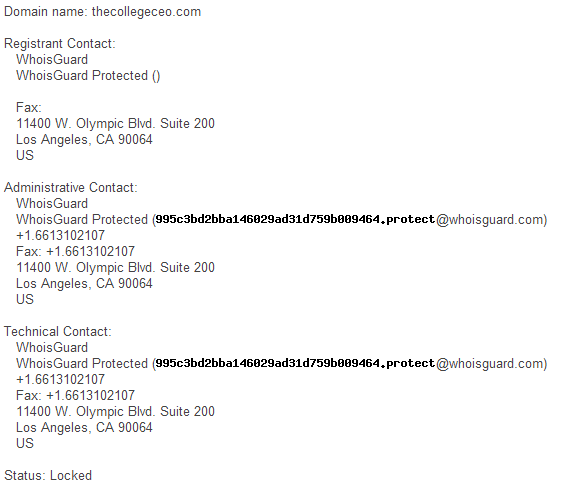 With the free Whois protection, Namecheap will usually come out cheaper than GoDaddy. Without it, GoDaddy's prices are generally better. GoDaddy's transfer pricing is also lower than Namecheap's standard pricing. But Namecheap usually has great deals on transferring. Namecheapcoupons.com posts deals and coupon codes for Namecheap every month, so you really never pay the advertised pricing when you use Namecheap.
Overall, I'd say GoDaddy has better pricing, strictly based on base pricing and no extras.
User Experience
Now it's time to start diving into the meat and potatoes. Price is important, but honestly the cost difference between these two is like a couple bucks so it's probably not going to be the main determinant of which one you choose. When you talk about user experience, this is where most people will make the real decision as to which registrar they choose.
I'll start out with Namecheap. As far as domain registrars and web hosting companies go, Namecheap is really easy to work with. You can easily navigate to the areas that you're trying to reach and pretty much everything is easy to do. I can register a domain name within a minute after I find one that's available.
Their "Suggestion" box that appears on the right when you're trying to find a domain name is also pretty helpful. I've drawn some ideas from it before. Once you've picked a domain name, the checkout process is extremely easy to follow through and simple. They give you the option to add on any extras you want, set your name servers, choose whether or not you want automatic renewal, and all that other good stuff. I really don't have anything negative to say about Namecheap's registration process. GoDaddy on the other hand…..
GoDaddy is like a car salesman. Once they see that you've expressed some interest in one product, they try to tack on many extras as possible. They seriously have one of the worst checkout processes I've ever come across. For one, when you choose a domain to purchase, they automatically set your registration term for more than 1 year. I've added a domain to my cart, gone to checkout and GoDaddy had the term set for 5 years! Then, they hit you with a pop up to tack on some add-ons like:
Registering 5 more TLD's for one low price
A certified domain seal
Privacy protection
Web hosting
A website builder
Business class email
A 2 year domain renewal if you already have domains with them
I understand trying to upsell, but trying to trick people into registering for multiple years and throwing a bunch of add-ons at them at the same time is overkill. Since they primarily target business owners, it's easy for them to sell all these extra services to people that are clueless and think they're getting some kind of a good deal. But I'm telling you, don't fall for the trap! The only thing you need is the domain name. The only extra worth signing up for is the Privacy Protection. But if you need privacy protection you might as well just register at Namecheap and save yourself $10. Lastly, for some strange reason GoDaddy doesn't allow you to pay with PayPal if you use a coupon code.
I'll give GoDaddy credit for cleaning up the interface of the Account Management screen. But they should consider taking an approach similar to Namecheap. The backend of Namecheap is organized with a sidebar so the screen isn't so cluttered. In my opinion, Namecheap wins the user experience round without a doubt. GoDaddy's awful checkout process is impossible to overlook.
Customer Service
I've had positive experiences with both companies with customer service. Whenever I've had any issues, the support teams have been great with responding to me and helping me out. Since I've never had issues with either company, I'll give them a tie based on my experience. HOWEVER, I've heard some horror stories about GoDaddy's customer service before. Since I can't personally attest for any of them, it's only fair for me to go straight down the middle.
The Intangibles
I wanted to add this section in here to cover some of the extra things from both of these domain name registrars. For instance, GoDaddy has had their DNS hacked in November of 2012. That's a pretty big issue in my opinion because it's a security problem. The problem was fixed and all that, but it still doesn't do much for consumer confidence.
I could go on and on about the issues that GoDaddy has had like their CEO's elephant hunting hobby, but I think you get where I'm going. Namecheap on the other hand really doesn't draw much negative attention. They showed profound support against SOPA which earned them a lot of recognition among internet marketers specifically, and they generally have a good reputation.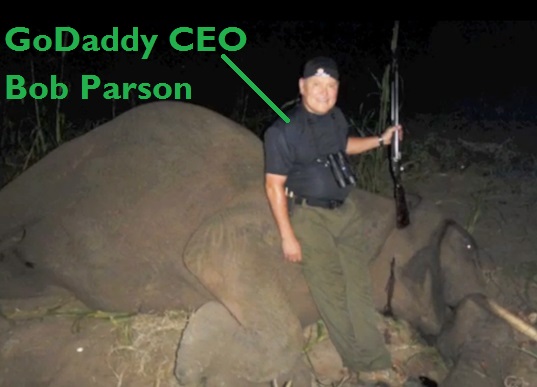 Namecheap or GoDaddy?
It's a no brainer for me. Namecheap wins hands down. GoDaddy isn't the worst domain registrar out, but they just can't compete with Namecheap. I mentioned in the beginning that I started out with GoDaddy when I first got into internet marketing. After I did some actual research and got recommendations, I quickly hopped on the Namecheap bandwagon and haven't looked back. Even the $0.99 domain sales that GoDaddy has don't appeal to me. I've been gradually transferring all my domains over to Namecheap and by the end of this year I will be completely free of GoDaddy.
If you're interested in leaving GoDaddy, here's a great article that explains how to transfer a domain from GoDaddy to Nameheap. If you just want to register a new domain with Namecheap, feel free to use my affiliate link and I'll help you through the process.
So there you have it. That's my take on the Namecheap or GoDaddy debate. Which domain registrar do you use?