My Linkvana Review + Case Studies!
A lot of you have probably been waiting on this review. After my Rank Hero and Marvel Authority Network reviews, it only made sense that I reviewed one of the most popular PBN services there is –  Linkvana.
I've been waiting to do this review because Linkvana is actually my main linkbuilding method, so I knew it would take a while to write. I've used Linkvana to rank over 30 local clients' sites for thousands of keywords. It's what I've been using for quite a while now, and it's what sparked my interest in services like Rank Hero and the Marvel Authority Network. Linkvana showed me how effective blog networks could be. But with all of the recent changes in SEO, does Linkvana still work?
What Is Linkvana?
Linkvana is a One Way Link Building platform that actually has more than just a private blog network. One way link building basically means that you're getting links from sites without needing to link back to them. The benefit of one way links over two way links is that Google sees them as more valuable. Why? Because two way links can signal "foul play" like link exchanges in Google's eyes. One way links show that a site is linking to you because your site is relevant and valuable. One way links are the ideal type of backlinks that you want for your site.
But in a lot of cases, one way links are hard to come by, particularly now that Google has been cracking down on popular link building tactics like guest blogging. Websites are scared to link out to other people. To make matters worse, Google has been urging sites to use "no-follow" tags when linking to other sites, even if it's a legitimate backlink. That means link juice is getting extremely difficult to get.
With all of this going against us, what's an online marketer to do? Sure you can go the "white hat" route and just try to earn links naturally. That should definitely be a part of any strategy in my opinion. But like I said, 100% natural backlinks are a lot harder to get than they've ever been. Enter Linkvana.
How Linkvana Works
Linkvana works on credits, similar to Rank Hero. You can use your credits to buy a ton of different types of links for pretty cheap. Right now, they have:
Web 2.0's
Posts on the Linkvana PBN
Squidoo lenses
Blogs
Video
Directories
.Edu links
Social bookmarks
Google citations (for local SEO)
Guest posting
News site links
Complete niche site creation
Press release distribution
Forum profiles
RSS submissions
Profiles on authority sites
Video distribution
As you can see, they have plenty of link types to choose from, which is the main reason I love the platform so much! And through talking with my account manager, they're experimenting with other types of link as well like document sharing sites and Wiki links. Each link type is worth "x" amount of credits. For example, 3 guest posts cost $30, and the more you buy, the cheaper each post is. You can see the full pricing chart for each service on their site under "Pricing". Their services are VERY affordable.
Ordering Services
You'll start off by setting up Projects, which are your websites.

For each project, you enter a project name, domain, category of the site, and the frequency that you want posts or articles to be published (more on this later). This pic is just for example.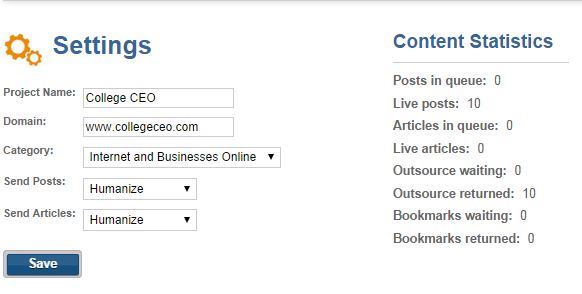 Here's the beauty of Linkvana, and  another one of the reasons I love it. You can do deep linkbuilding. With most linkbuilding services you buy from Warrior Forum, Wickedfire, or elsewhere, they'll let you get 2 or 3 URL's to build links to. With Linkvana, you can use however many you want so that you can build links to all of your internal pages. This is crucial for SEO these days.
You can enter the URL and the anchor text you want to use to go to that URL.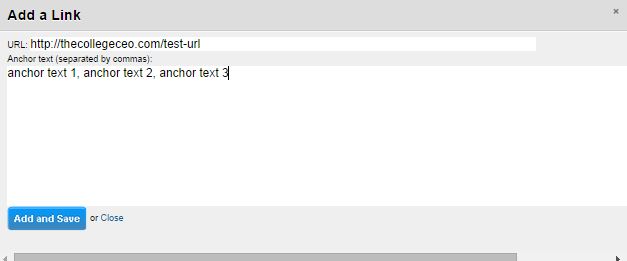 Honestly, this feature alone was enough to convince me to sign up for Linkvana. You have to do deep linkbuilding now, especially if you're building links for an affiliate blog sites. Building links to all of your blog posts is a winning strategy. The days of just pointing all of your backlinks to your home page are long gone. Linkvana is the most affordable solution I've found for creating backlinks links to all of your internal pages.
From that point, you can start picking your services and building links to your site. The services are completely automated. For most of them, you just have to enter some info, and Linkvana's handles the rest. After they're done, you get a report and they also let you track all of the links you've built over time.
Linkvana Private Blog Network
I showed you the list of all the different types of links you can get through Linkvana. But the main service that Linkvana is popular for is their private blog network, so I'm singling it out for this review. They offer 4 different account types, two of which don't include access to their blog network. Trust me, you want one of the accounts that gives you access to the LV blog network.
I'm not sure exactly how many blogs are currently in the LV network, but it's a lot and they add new ones each week according to their FAQ page. As for the quality of the blogs, Linkvana promises that they all:
Have a PR of 2-6
Have plenty of inbound links
Are built on aged domains (1-13 years old each)
This is all great to hear. Personally, I like to look at page authority and domain authority to determine how good a blog is for link building (which is what Rank Hero does). Linkvana does not give you the URL's to the posts you get on their network, but through my own research, I've been able to find some of the blogs my posts appeared on and for the most part they have good page and domain authority. So I'm very satisfied with the blogs in their network.
Now let's talk about actually creating posts for their network. You have two options:
Submit your own content
Outsource your posts through Linkvana
Personally, I outsource the posts to Linkvana. When you choose to let Linkvana do it, here's how it works. There are two types of posts you can make, a short blurb called posts (around 250 words) or an article (around 400 words). The blurbs/posts are $2 each and the articles are $10 each. I use the blurbs because I'm a cheap bastard.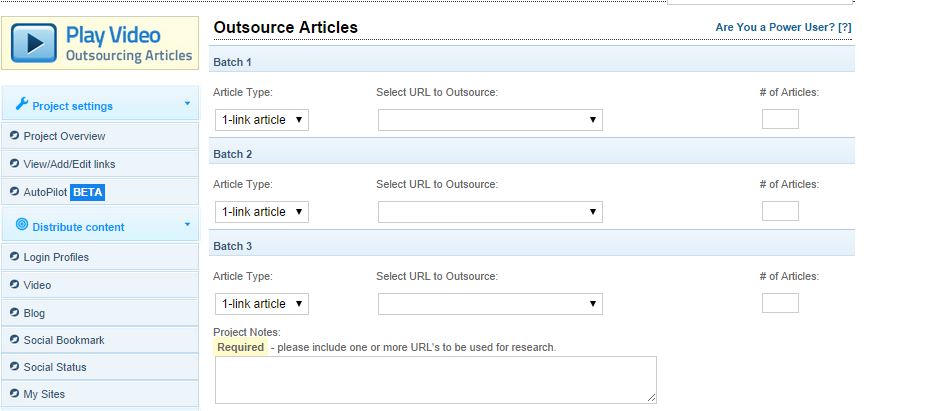 If you submit your own content, you don't have to pay anything. But the content you write has to be original. This helps preserve the quality of the sites.
Even though I use the blurbs, I'm thinking of submitting my own content. Here's why. There are some writers on various forums that will write halfway decent articles (not good enough for your money site) of 500 words for $2-3 if you by in bulk. Having more content in your articles is ideal because Google is big on the text surrounding your links. But for now, I'm using LV blurbs because it's quicker and convenient.
In the screenshot in the beginning that shows how to setup a project, I mentioned you can choose the frequency that your posts to the LV network will be published. You can choose to have your posts be published:
Every 3rd day
Every other day
1 per day
1 per week
1-3 per day
2-5 per day
Humanize
The benefit of this is that you can make your link building look completely natural, or "drip" your links over time. I highly recommend making good use of this option because it's awesome and makes your link building a lot safer. The whole goal of building links is to make it as natural as possible. Having a steady feed of a few posts per day going to your sites is natural in Google's eyes and makes your site seem popular and relevant. I set my projects on the "Humanize" setting for my posting frequency. That means that your posts will be published randomly, pretty much like a normal blog.
I don't really want to bore you to death going over all of the other features of their blog network. But just know this, it works, and I've been using it for a long time with great results.
The Other Linkvana Services
The PBN is the main feature of Linkvana, but you saw that long list of the other types of links you can get on their platform. I haven't used all of them yet, but I've definitely used most at some point. Before you just go off and start ordering a ton of services and throwing all kinds of links at your site, press the brakes!
Linkvana is an extremely powerful platform, when used correctly. It's all about knowing how to setup your link building plan correctly within your budget. For a lot of people, the PBN alone will be enough to rank your site. But I definitely recommend venturing off and combining some of these other services too.
Here are some of the other services on their platform that I use pretty regularly:
Web 2.0's: They'll setup web 2.0 properties for you, add 400 words of content, build links to the property to help it get indexed, and give you the login info so that you can keep building out the property yourself if you want. You can have an army of Web 2.0's in your network, which is what I do. They use a wide variety of sites like Live Journal, Weebly, and some that I'd never even heard of before.
Squidoo lenses: People debate on how effective Squidoo is for SEO these days, but I'm in favor of it. The problem with Squidoo is that it takes some time to setup your lenses. They handle it for you with their service. Unfortunately, the service is temporarily down right now because they're so backed up with orders, but hopefully it will be back up soon.
Guest posting: The new "bad boy" of SEO. I still use guest blogging and have no plans on stopping. They will write the content for you and get it posted as a guest post. Now I have a suspicion that LV actually owns at least some of the blogs that your guest posts go on, but it's still an effective service nonetheless.
News site links: Again, I'm pretty sure Linkvana owns a lot of these sites. But these posts give you some nice variety in the types of sites you're getting links from. They write news like articles and give you a link within the body.
Video distribution: Video is huge for SEO right now. With this service you upload a video to the platform, and they post it on various video sites like YouTube and Vimeo. I just whip up a quick slideshow video (takes about 5-10 minutes to make) and upload it. Your link will go in the video description.
RSS submissions: A lot of people overlook this, but it's very useful for sites with blogs. Linkvana will submit your RSS feed to popular RSS distributors so that every time you post a new article, aggregators can pick it up and you'll have a stream of steady incoming links.
Some of you might be shocked, but I even use their social bookmarking service. A lot of people will tell you to avoid this at all costs, but when used correctly, they can be beneficial.
Linkvana also has some cool features that I'm anxious to try out like their Niche Site creation service. I haven't needed to use it quite yet, but it's something I plan on using at some point. Here's what you get with it: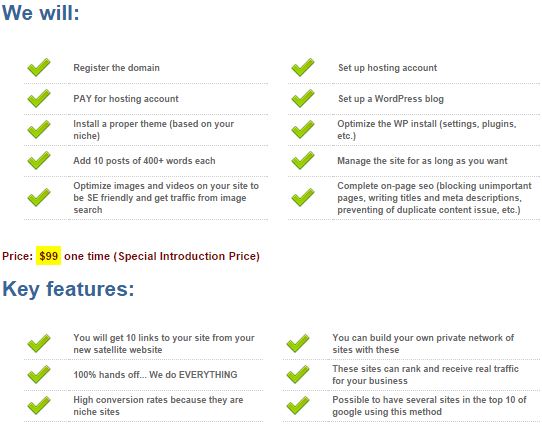 They basically setup a complete niche site for you for just $99. It's very interesting and intriguing. Here's an example of one of their niche sites. It's actually a pretty nice looking site. You could actually use these to build up your own mini PBN, or monetize them and rank them. There are a lot of possibilities.
A newer service they've released is their authority blogging. They create researched SEO friendly articles that engage your readers. I haven't tried this out yet, but it seems like a great service if you need content for your money site or an authority site.
Linkvana Pricing
There are 4 types of accounts you can open through Linkvana. There are no long term contracts so you can cancel at any time which is nice. It's also a great incentive to just give it a try for a month with 80 free credits and see how it works.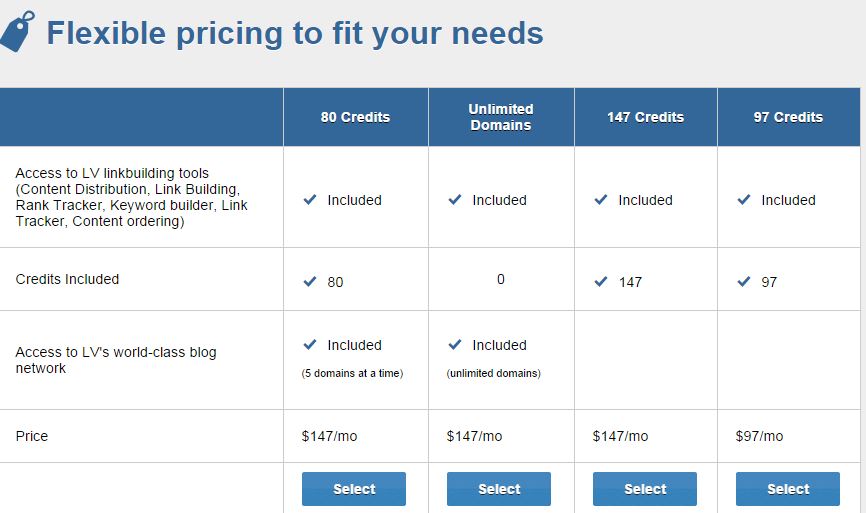 The pricing chart might be a little confusing. It was to me the first time I saw it. So I'll make it easy on you. Go with the 80 Credits plan. It gives you access to the LV PBN and all of their services, and you get 80 credits to play around with. With the 80 credit plan, you can have up to 5 sites/projects.
Does Linkvana Work?
Ok, I could go on and on about the features and benefits of Linkvana. But it's easier to just show you what I've been able to do with it.
Linkvana Case Study #1
This is a site that I've been working on for over a year. I started using Linkvana on it in January. You can see how much the rankings have improved since then. These increases are for all the keywords I'm tracking, which is a little over 40. In total, It's an increase of over 700 spots, with a majority of the keywords now on the first page.

Linkvana Case Study #2
This site is interesting. I had a tough time trying to get a majority of the keywords to even appear in the first 100 results. I tried changing a bunch of on-page things, but a majority of the keywords I was tracking still weren't ranking. So in July, I decided to start out light with Linkvana by doing some posts to their PBN and a couple Web 2.0's. I was VERY pleased with the results!

Linkvana Case Study #3
This third one is a brand new site that had no off-page SEO work done to it. The on-page SEO for it was strong, so I was able to rank a lot of keywords from the start. Then when I started using Linkvana in July, I pushed a majority of the keywords to the first page.

Those are just a few examples. Every site that I've used Linkvana for has had similar results. Trust me, it works.
Linkvana Review Wrap-Up
You probably guessed it, but Linkvana is easily my top choice for building links. Every now and then I use other services, but Linkvana is the foundation for my SEO strategy. Here's why.
[list icon="icon: check" icon_color="#18a900″]
The pricing is right
You can build deep links to all of your internal pages
You can build a ton of different types of links
Easy to track the links you've built
Very simple and easy interface
Top notch customer service (I always get a response within 24 hours)
[/list]
It's a no brainer. Here are some of the case studies they have of people that have used their service. They're a little older, but still show how powerful the platform is:

If you've been looking for a way to rank your sites without spending a shit ton of money, here it is. Give Linkvana a try. It's helped me so much, and I've been able to rank thousands of keywords with ease. Pick the 80 credit plan, test it out, and see how you like it. I did it, and I'm sooooo happy I decided to give it a shot. Check it out.