I've decided that I'm going to try to review some Internet Marketing products every now and then. There are a lot of products out there and in order to help you avoid wasting your money on garbage products, I'll be the test dummy. I use a lot of different tools, read a lot of WSO's and experiment with different methods, so the least I could do is pass along my thoughts and opinions to you all. And also, I generally like writing reviews. Some of you might have read my first review on WorldWide Brands last month. I really enjoyed putting that review together and hopefully I can continue with that momentum.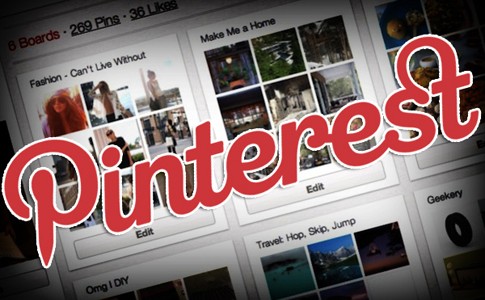 Today, I'm reviewing Ninja Pinner. For those of you unfamiliar with the program, Ninja Pinner helps automate some of the more mundane tasks involved with Pinterest. The main features of Ninja Pinner are:
Auto-Follow and unfollow
Auto-like
Auto-pin
Auto-repin
Auto-comment
There are plenty of other features in this software as well, but those are the primary ones that you'll be using. The website pretty much sums up what Ninja Pinner does:
The NinjaPinner robot handles all of the grunt work for you and SAVES you time!
Design
The user interface and layout of software is very important to me. Way too many programs make the mistake of having extremely complex interfaces that throw a ton of features at you. That's not the case at all with Ninja Pinner. The layout is straight forward and to the point. Some people might complain that there aren't enough options and tabs. However, the streamlined approach is what I really like about Ninja Pinner.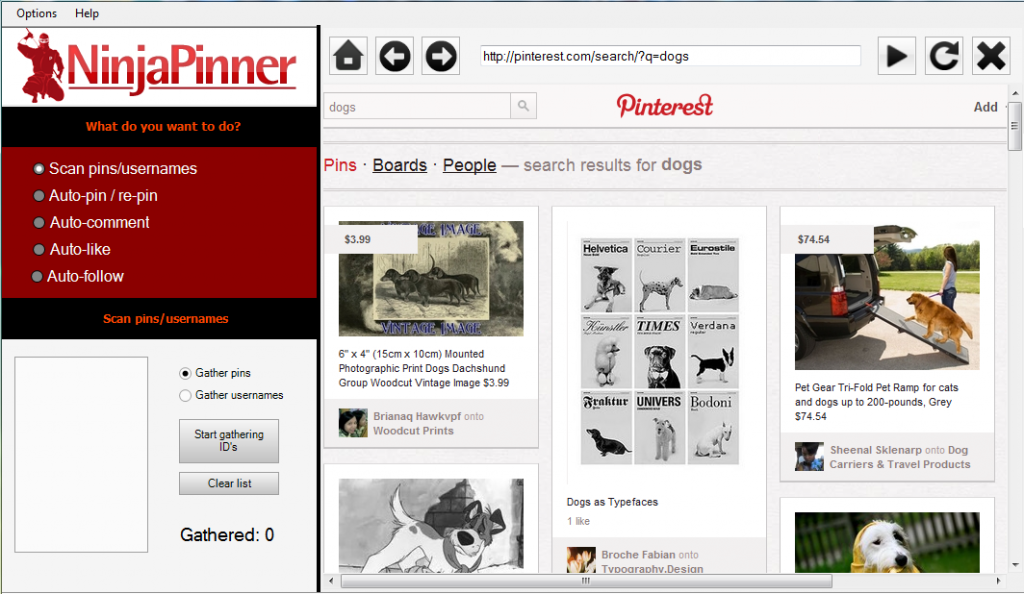 Usability
This is what really matters when it comes to Internet Marketing tools. Does a program do what it's supposed to do? Ninja Pinner definitely delivers in this category. The main functions I use are Auto-Like and Auto-Follow. Both work very well and I haven't experienced any issues so far with the program not working correctly or getting my account banned. I've set it up to auto-follow hundreds of people and the only problem I've run into is having a notification on Pinterest pop up telling me to slow down.
When using Ninja Pinner (or any other Pinterest tool for that matter), you have to remember that what it's doing is going through the sequence of performing the actions automatically. You will be able to visually see the robot liking pins and following people in the program. Don't expect to Like 500 pins in two minutes. The process isn't super quick but when compared to doing it all manually, it's a HUGE time saver. I'm all for anything that can save time.
Because of the streamlined approach they took, it is soooooo easy to just download the tool and start using it. There isn't a long tutorial or a bunch of options to go through. Just start it up, scrape your pins or user ID's and follow, like, comment, pin, etc. as much as you want. That's really all there is to it.
Support
I only needed to contact support one time. When I ran my first campaign, I noticed that nothing happened. I set the bot up to Like 200 or so pins but after it was done, none of the pins had been "Liked". Since I had such a bad experience with another Pinterest program, I was a little upset and pretty much assumed it was just another dud. I contacted support and let them know what happened and the within about a day, I received an e-mail asking if I had updated my Pinterest account to the new look. I hadn't. So after I upgraded, they supplied me with an extended trial period and everything worked great.
Other than that, I've never had to contact support for help which is a great positive in my book.
Negatives
As far as what the program does, I really don't have any complaints. It does exactly what it claims to do. It would be nice if there were some additional features like the ability to follow members that follow "x" amount of people so that you can only follow people that are likely to follow you back.
My other minor complaint is the price. They offer two types of licenses. A single account license for $47 and an unlimited license for $67. That's a little on the pricey side because a lot of their competitors are priced under $30. I think $47 should cover an unlimited amount of accounts. But that could just be my cheapness.
There is also a $10 fee if you want to use the program on a different computer other than the one you initially installed the bot on. I don't understand why they didn't make this a cloud based program so that you can just log-in online to use it anywhere you have an internet connection.
Conclusion
Overall, I'd definitely recommend Ninja Pinner if you're looking for a great Pinterest tool that will help automate things and build your Pinterest accounts faster. I'd go as far as saying it's the best Pinterest tool I've come across yet. At the very least, you should give it a try. One of the best decisions that the creators made was forcing you to use the free trial version before buying. This means you know exactly what you're getting before you make the purchase which is a great move on their end. You can sign up for a free trial here. Let me know what you think.
If you use any Pinterest tools that you recommend, let me know and I'll check it out. I'm always on the lookout for internet marketing tools to add to my arsenal.
Final Grade:

B+