Project- My First E-Commerce Site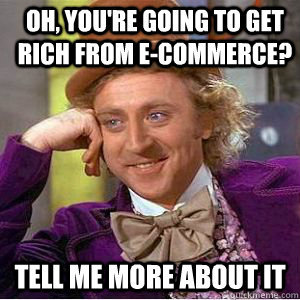 I've made a pretty big decision recently. I will be launching my very first E-Commerce site! After achieving a good amount of success on eBay, I want to start selling on my own. I can't lie, it's partially fueled by distaste of eBay's practices, but it's also because my profit margins will be higher and it's something that I've always wanted to do. The site is going to allow me to use my experience selling on eBay, my social media knowledge, internet marketing skills, and my entrepreneurial spirit all together.
What will I be selling?
I don't want to spill the beans just yet. Right now I'm in the beginning stages so I don't want jump ahead of myself. What I can tell you is that the competition is minimal, it's a fairly niche area, and I'm going to have the first real "Brand" in this particular market place. So the opportunity is great. I probably won't reveal any specifics about what the site is until well after I've launched (if ever). Part of the reason is because I don't want anyone to sneak up and steal my idea!
Where I'm at with the project
Currently I'm in the research stage. I have already come up with a name, bought my domain name, and created social media accounts across some of the sites I deem necessary. Social Media will be a huge component of how I plan on marketing this company. This will be a 100% legitimate operation so I'll be filing the official LLC and everything. I'm taking things a bit slow.
I will be putting a large chunk of time into doing research because I really don't have much knowledge on the products I plan on selling. I just discovered an opportunity and feel there is a lot of money to be made here so I'll be pursuing it.
What's Next?
I'm going to continue doing research. I'm working on sourcing products and I've found at least one good supplier that I plan on dealing with. I'm still thinking of all the different products I'll be carrying but I have a pretty good idea for now. As I start to progress with this site, I'll be keeping you all updated. I'll be posting about:
Buying/receiving my products
Setting up the actual E-Commerce site
My marketing efforts
The growth of the company
Overall updates on the steps I'm taking
I figured a real life case study would be entertaining and a great learning experience for all of us. Hopefully it ends well. You can learn from my mistakes and take tips from the things that I do right. It'll be interesting to see how it turns out! Check back for updates.