The Truth About Worldwide Brands 2020
My Worldwide Brands Review
Before I found Worldwide Brands, years ago when I first started to get serious about selling on eBay, I scoured the internet in search of wholesalers to source products from. I bought some of those $1 lists on eBay that claim to give you over 1,000 drop shippers and wholesalers.

For the most part they were complete junk. Half the companies were out of business and the others looked extremely shady. So then I happened to come across Worldwide Brands……
For those of you that aren't familiar with them, Worldwide Brands is a directory of wholesalers and drop shippers. Their major selling point is not only do they list thousands of dropshipping suppliers, but they also have Light Bulk Wholesalers. Light bulk wholesalers are companies that don't require buyers to purchase large quantities to get better pricing. They typically have minimum purchases of $150. In addition to this, they give you access to resources and recommend training to help your online career take off. The price for all of this? $300.
I was convinced that this membership was exactly what I needed. Being a student, I didn't have thousands to sink into products, so the ability to buy in smaller quantities and still get wholesale prices is what intrigued me the most and is what likely will draw you in too. But is it really worth $300? In my opinion, YES.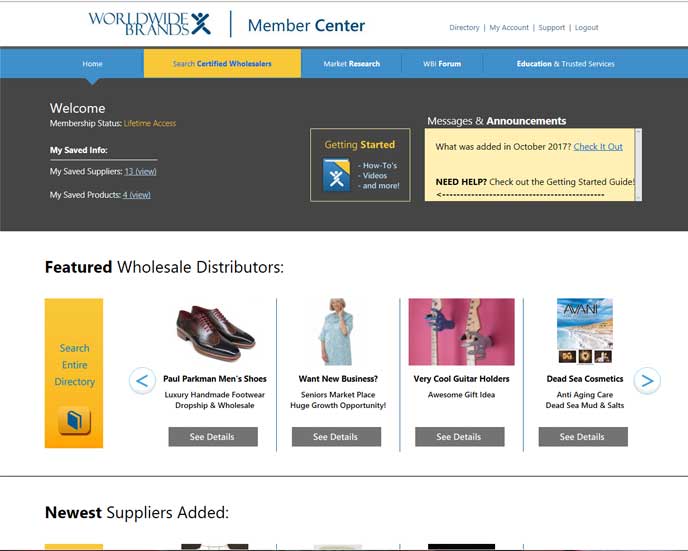 Upselling Galore? No.
Call me greedy, but for $300 I expected a lot more than just a search directory, and I got a lot more. WWB does deliver a lot more than just the same old directory junk and tons of useless upsells I had tried before. They don't upsell like Salehoo, Doba, GoDaddy and all those others. They do offer the FREE really excellent EBiz Insider Video Series by Chris Malta, the company's Founder.  In a way there is an upsell to their affiliate link for Quickbooks, but it is, in my opinion the right tool for the job. Then you do receive emails from time to time to promote carefully vetted coaching, but that's it.  I wasn't offended by those emails.
I completely understand that they're in it to make money, but for a $300 price tag?  Well they have a lot more genuine wholesalers and drop shippers than any other directory of its kind.  While I haven't actually counted them, they claim there are over 17 Million products from over 8000 suppliers and looking through the directory, I believe it.  To me is important because I could find products that others aren't selling and the market isn't saturated with sellers.  I also like the free resources for their members that can't be found with a quick Google search. The free videos they give you from their Founder, Chris Malta, have an amazing amount of useful information in them. I've honestly never seen anything so comprehensive for free. If you sign up for WWB, expect emails on a continuous basis (just like any place else), but with products and resources that are actually real and do work.  If you don't like it, you can unsubscribe.  I chose to keep them coming because there are often some good tips in the newsletters etc.
The Directory
The bread and butter of WWB is their directory of wholesalers and dropshippers. They pride themselves in having the best directory of wholesalers and drop shippers online. Their process for finding suppliers is this:
Attend trade shows to find real wholesalers and drop shippers
Visit their warehouses to ensure they're real
Certify them
Add them to their directory
Honestly, I initially had my doubts about exactly how much work they put into finding all of the companies in their directory. I was afraid that a lot of the companies in the directory might be found with a Google search. But, most of the companies in their directory are both branded companies and generic products wholesalers that are not available elsewhere. So you're getting generic products when you need them, and also brands that are well known. There are some more well known wholesale companies in their directory as well, but a majority will be companies that you have never heard of anywhere else.
WWB does deliver exactly what they promise. There are plenty of legitimate wholesalers in their directory and they will give you a discount assuming you have a Tax ID.
As always in wholesale, in order to get deeper discount wholesale prices you will have to buy in larger quantities. There's no way around it. Buying $150 worth of product will not get you anywhere near the pricing that ordering $5K or $10K worth of products will. This is something that WWB has no control over but neither does anyone else, and they write about that. No directory or wholesale source has control over what kind of pricing you'll get when you buy in bulk or light bulk. The only way to control your wholesale pricing is to use legitimate wholesalers, and that's what WWB gives you.
With eBay and PayPal fees plus shipping, it can be difficult to make a profit on your sales unless you're buying in large quantities. If you sell on eBay you already know this, and that won't change no matter how legitimate your wholesale suppliers.
I'll give you an example. I found one company selling Bobble heads, T-Shirts, toys, and other products in the Pop-Culture niche. The pricing that the company was offering me was below what the items were selling for on eBay, but I would have to buy in larger quantities to get deeper discounts. This pretty much exactly what WWB advertises, and that's always true in real wholesale. The sellers in their directory are Light Bulk friendly, though, so you have control over what quantities to buy to satisfy your budget and profit margins
.
The Supplier Search feature is broken down to 2 different tools. Suppliers, and Market Research.  Yep, sorry they wont let you publish the company names so I had to blur them out.
Suppliers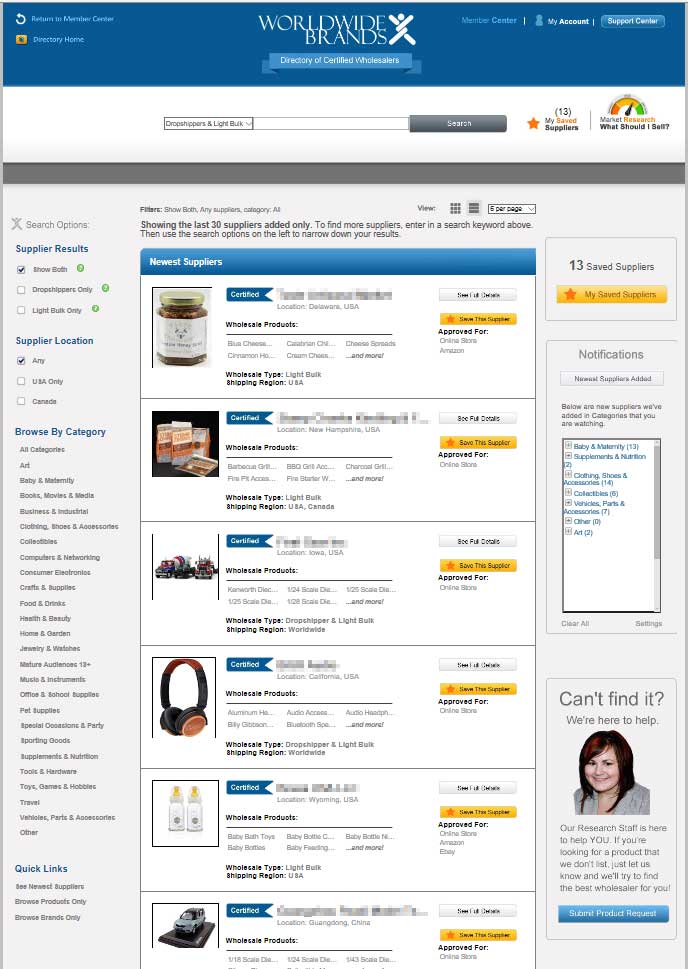 This is where you'll see the search results for whatever product you're looking for. It shows the number of product types for Drop Shippers, light bulk wholesalers, etc.
You also get direct and complete contact information for each wholesaler, so that you work one on one with that wholesaler with nobody getting in the middle of that relationship. That insures you get real profit margins on wholesale and drop shipped products from the wholesale suppliers you find in Worldwide Brands.
Analysis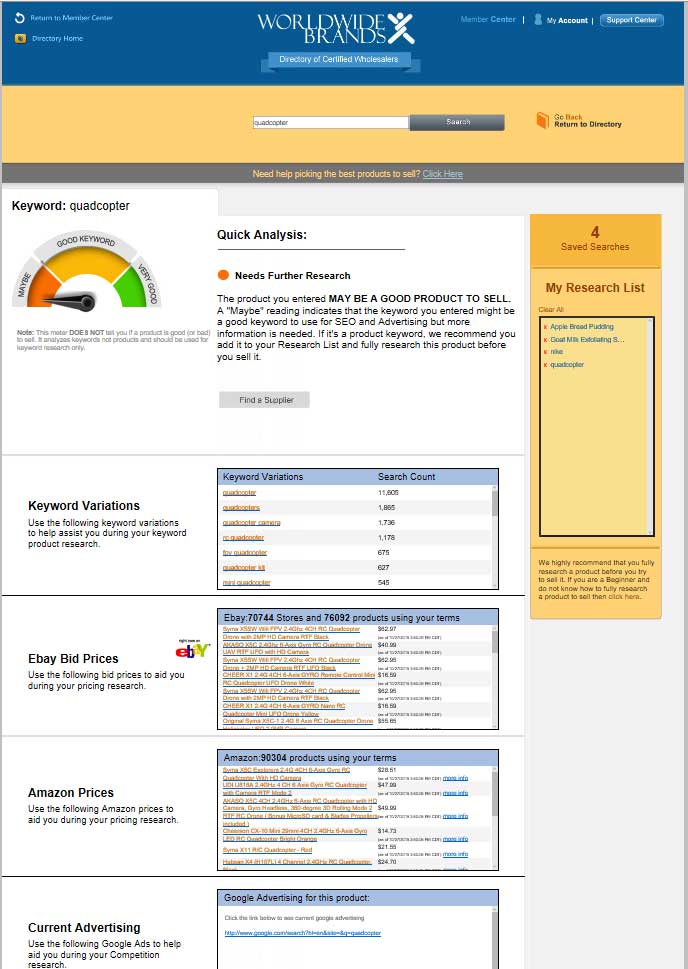 Next is the Analysis tool. It's used to give you an idea of how difficult/easy it will be to sell the products you're searching for.
Keyword Variations
Keyword Variations shows you the number of searches the product gets per month.
Ebay Bid Prices
The Ebay Bid Prices displays the number of results for products on Ebay and the number of stores that has those products.
Amazon Prices
Amazon Prices show the number of amazon products and also prices related to the search.
Current Advertising
Current advertising is a link that goes to google to show current advertisers for related search.
The Forum
One of the Bonuses of the $300 membership is access to experts in their forum. With most Forums of this kind, this is a joke. Most Forums like this forum are dead or are full of upsells. However, from what I've seen for the past 6+ years since I've been a member, there is real substance and value here. Questions in this Forum are actually answered by real people who work at WWB.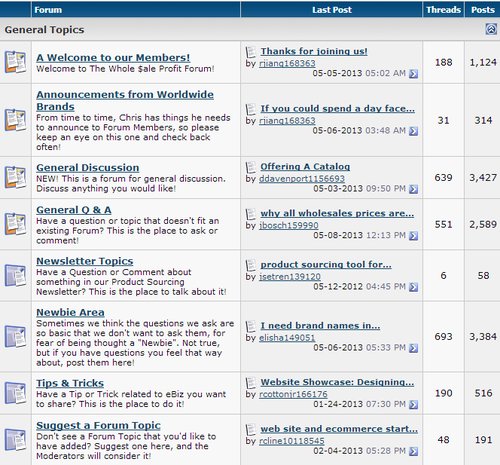 Is Worldwide Brand A Scam?
WWB is definitely a legitimate company/program. They aren't scammers. The value of what they offer far exceeds the price they charge. There is no way I could have done this research myself for $300 and it would have cost me an enormous amount of time that I don't have when starting my business. Beyond the directory, their free resources tell you everything from how to get your business legal (file an LLC), how to setup space to store your items (packing, etc.), how to recognize fake wholesalers, how to work with wholesalers, find a niche to sell, and lots of other detailed information that cannot be found online for free. There are also recommendations for highly effective training materials from Chris Malta, the founder of WWB.
My conclusion is that WWB is well worth $300. For beginners and experienced online sellers, whether on eBay, Amazon or your own web site, I would highly recommend it. If you think you're better off sourcing products at yard sales, auctions, Craigslist, or even AliExpress, think again. Local sourcing takes way too much time and energy, and place like AliExpress and other directories are just middlemen.
Pros and Cons of Worldwide brands
While there's always a lot to consider about a directory like Worldwide Brands, there are major pros that stand out, and only one con that only seems like a con but actually isn't. In this case, they revolve around Worldwide Brands providing a large, legitimate directory, but at seemingly larger cost.
The truth is that other directories like Salehoo, Doba and so many other wholesale directory offers and options you see out there have hidden costs that they don't tell you about. Beside the fact that the others operate as middlemen (which means less profit for you), the others have monthly fees, annual renewals and more that can actually cost you $1400 a year or more.
Besides being the only fully legit wholesale directory I've found, one of the biggest Pros of Worldwide Brands is their price is "one time, lifetime", as they advertise, and it really is. Buy it once, own it forever, and get new wholesale suppliers added every week.
The Best Alternative For Worldwide Brands
I've gotten a ton of emails from people asking what they should use instead of Worldwide Brands. It's taken me a while to try out a few different services and nail down what that I trust enough to recommend to you guys.
After all that research, I can tell you that the best alternative for Worldwide Brands is that there is no legitimate alternative for Worldwide Brands. WWB is what you need, no question.
Here are a couple of quick bullets to recap the Worldwide Brands Directory of Wholesalers, Drop Shippers and Light Bulk Wholesalers:
Worldwide Brands has a directory of over 8000 suppliers
Over 17 million products available at wholesale
No middlemen. You deal directly with the wholesale source; you do not buy products through Worldwide Brands, so there are no hidden markups in price
Market Research Tool to help you find products that are selling well and are likely to have good profit margins
The forum is actively used and posted in providing users of the directory and the other products they provide a valuable connection to other people in the selling business
It has a comprehensive video training center that will help you get started if you are completely new
Worldwide Brands provides recommendations for carefully vetted resources and education materials that will take your business outside of eBay if you choose to
All for a far lower price than you pay considering all the hidden fees, renewals and middleman markups you pay for any other directory
As you can see I think WWB beats every other wholesale directory by far and the team over there are constantly working to maintain and make the products better. Overall a much better choice for the money, you can use the money you save to buy products and get to flipping them.
The only way to make money online through eBay or elsewhere is to take action. My recommendation after my full review is to give Worldwide Brands a shot and start sourcing some different products to flip to get the ball rolling.  I was able to obtain a whopping $75 off 2020 Worldwide Brands Discount Coupon for their lowest price ever and you can get it here too!  So now you can get the Worldwide Brands Directory and all that quality information and education for:
     $224!
If you are an existing seller and looking to take your eBay selling, Amazon store or online site to the next level, or if you're just getting started in this business, I highly recommend Worldwide Brands. If you don't have this, you're not sourcing at wholesale.
Best of luck to you in all you do.
UPDATE (9/28/2021): I just found this hidden coupon for $100 off. I'm not sure how long they will have this up before they take it down.
Click this link to get it.


Worldwide Brands Discount Coupon
Biggest Discount ever!

$75 off Coupon


click here