Worldwide Brands Review 2023
Worldwide Brands Review
Last updated: 8/18/2023
This Worldwide Brands Review article I initially wrote so many years ago and I still keep coming back and using the Worldwide Brands Directory all these years later. It has paid for itself over and over again while I create niche stores.  I mean, I only paid one time and it's something that I'm still using and it's still being updated with new suppliers to work with? Too good to be true? Nope. It's really true.
And so I also keep coming back and updating this Worldwide Brands review over and over to make sure that it stays updated for all my readers… like Worldwide Brands is always updated.
Let me make this clear, I was definitely a member, then a fan before I was an affiliate!
Yes, you will find affiliate links on this page. Yes, I will get compensated if you are moved by this review and purchase access yourself. But I didn't decide to be an affiliate and write this review until AFTER I was a member, then I became a FAN!
If there is anything more that you want to know about the Directory, or even about selling online please ask in comments and I'll share what I can. Please also leave any comments you might want to make if you are already a Worldwide Brands member and maybe we can start a conversation.
HOW IT STARTED
I found Worldwide Brands, MANY years ago when I first started to get serious about selling on eBay. Nowadays we are all looking for places and new ways to sell and I wanted to sell on Amazon and also considered getting an online store.
Selling online or anywhere, of course I needed to find products to sell. So I searched the internet looking for wholesalers to get products from just like everyone else. I bought some of those super cheap lists on eBay that claim to give you over 1,000 drop shippers and wholesalers. Hey, it was just a buck.

But…Wow!!!!! What a list of junk. Half the companies were out of business and the others looked extremely shady.
I also looked at free lists I found digging through other websites. Looking through those, I wasn't sure what I was getting myself in to and I was actually finding a lot of bad links and a lot of places that wanted me to pay them just so they can be my supplier? This one confused me and wasn't helpful at all.
So then I happened to come across Worldwide Brands  in an eBay forum….
Who is Worldwide Brands?
For those of you that aren't familiar with them, Worldwide Brands provides a directory of wholesalers and drop shippers. Their major selling point is not only do they list thousands of dropshipping suppliers, but they also have Light Bulk Wholesalers. Light bulk wholesalers are companies that don't require buyers to purchase large quantities to get better pricing. They typically have minimum purchases of $100 to $150, but never anything over $500. In addition to this, they give you access to resources and recommend training to help your online career take off. The price for all of this? One time fee. $299. (but I have a discount for you! keep reading!)
I was convinced that this membership was exactly what I needed. Being a student at the time, I didn't have thousands to sink into products. So the ability to buy in smaller quantities and still get wholesale prices is what intrigued me the most and is what likely will draw you in too. But is it really worth $299? (hey… you can get a discount below!) In my opinion, YES. Like I said, I keep coming back to the Directory over and over and using it over and over finding new suppliers with interesting product lines to sell.
Upselling Galore? No.
Nope. No! I am used to getting at least one email a day trying to sell me something and I'm not getting that here.  I mean there is standard recommendations to their affiliate link for Quickbooks at the beginning and a very small amount of other services, but in my opinion, they are suggesting the right tools for the job. Then after that, now I just get the weekly newsletter and an email from time to time to promote carefully vetted services, but that's it.  I seriously wasn't offended by those emails and I wasn't bombarded daily with offers upon offers nor did I start receiving emails from other places. Which tells me that they did not sell or give away my email address.
Worldwide Brands Newsletter
Get the Newsletter when you can! 1. The tradeshow calendar is pretty neat in that you can see if there are any upcoming good shows near your area that you could potentially travel to 2. The exceptional articles have helped me a lot! 3. I like the quick sneak peek of what they recently added (I do follow their social channels too though & they post those there as well) and helpful resources, which I personally already have and have used for years. A good service is a good service. Hands down.
The newsletter sign up is free and you get one every Wednesday in your inbox. If you don't like it, you can unsubscribe.  I chose to keep them coming because there are often good tips in the newsletters.
NEW! I haven't paid that much attention to social, but I found Worldwide Brands posts on Facebook and Instagram about the new suppliers they add! I found this to be pretty cool. Because now I'm getting notifications about their new posts and if I see something I like, I will pop in and check out the supplier.
I'll put their social links below at the bottom of this review so you can see what I mean.
Worldwide Brands Review of Dropshippers/Wholesalers
I found that they have a lot more genuine wholesalers and drop shippers than any other directory of its kind.  While I haven't actually counted them, they claim there are over 16 Million products from over 8000 suppliers and looking through the directory, I do actually believe it.  There are suppliers that dropship, light bulk, import, liquidations & large volume. There seems to be something for everyone & new stuff all the time.
To me it is important because I could find products that others aren't selling and the market isn't saturated with sellers.
The Worldwide Brands Directory Review
What you are here for! The actual Worldwide Brands Review of the Directory. The bread and butter of Worldwide Brands is their directory of wholesalers and dropshippers. They pride themselves in having the best directory of wholesalers and drop shippers online. Their process for finding suppliers is this:
Attend trade shows to find real wholesalers and drop shippers
Certify them as legitimate and will work with online retailers like me
Add them to their directory
Honestly, I initially had my doubts about exactly how much work they put into finding all of the companies in their directory. I was afraid that a lot of the companies in the Worldwide Brands directory might be found with a Google search. But, most of the companies in their directory are both branded companies and generic products wholesalers that are not available elsewhere. So you're getting generic products when you need them, and also brands that are well known. There are some more well known wholesale companies in their directory as well, but a majority will be companies that you have never heard of anywhere else.
Worldwide Brands does deliver exactly what they promise. It's a Directory. No bells and whistles. It's not a system. Not a tool. Not a plugin. It's a Wholesaler Directory and that's what you get. There are plenty of legitimate wholesalers in their directory and those wholesalers will sell to you at wholesale prices assuming you have a Tax ID.
Wholesale Pricing Info
As always in wholesale, in order to get deeper discount wholesale prices you will have to buy in larger quantities. There's no way around it. Buying $150 worth of product will not get you anywhere near the pricing that ordering $5K or $10K worth of products will. This is something that Worldwide Brands has no control over but neither does anyone else, and they write about that (hint: subscribe to their newsletters!). No directory or wholesale source has control over what kind of pricing you'll get when you buy in bulk or light bulk. The only way to control your wholesale pricing is to use legitimate wholesalers, and that's what Worldwide Brands gives you.
You will not find wholesale pricing in the Directory. Worldwide Brands prides themselves as not being a middleman and there is no way NOT to trust that. Because there is absolutely no pricing in the Directory. You can't buy the products in the Directory through Worldwide Brands. You also setup the account directly with the wholesale supplier, not through Worldwide Brands. Worldwide Brands provides the sources, and you take it from there. No middleman markups.
I've learned that when selling on third party sites like eBay and Amazon; with eBay/Amazon and PayPal/Merchant Account fees plus shipping, it can be difficult to make a profit unless you're buying in larger quantities. If you sell on eBay or Amazon you already know this, and that won't change no matter how legitimate your wholesale supplier is.
Just a word of advice from someone who has been doing this a long time. Dropshipping isn't all that and a bag of chips.
Looking for Wholesale Suppliers
I'll give you an example. I found one company selling Bobble heads, T-Shirts, toys, and other products in the Pop-Culture niche. The pricing that the company was offering me was below what the items were selling for on eBay, but I would have to buy in larger quantities to get deeper discounts. This pretty much exactly what Worldwide Brands advertises, and that's always true in real wholesale. The sellers in their directory are Light Bulk friendly, though, so you have control over what quantities to buy to satisfy your budget and profit margins.
Wholesale Suppliers Search
This is where you'll see the search results for whatever product you're looking for. It shows the number of product types for Drop Shippers, light bulk wholesalers, etc.
So you just type in something you want to sell, like glassware, and it will show you the suppliers that are tagged with having glassware.
Direct Supplier Contact
You also get direct and complete contact information for each wholesaler, so that you work one on one with that wholesaler with nobody getting in the middle of that relationship. That insures you get real profit margins on wholesale and drop shipped products from the wholesale suppliers you find in Worldwide Brands.
Product Requests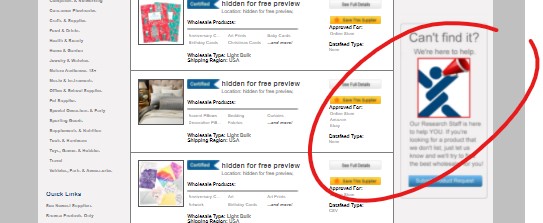 I was extremely pleased to see that I could work directly with the research team at Worldwide Brands! I was having trouble finding a specific product in their Directory and I reached out to the team for help and within a few days I got that help!
Now, it wasn't exactly what I wanted to hear, because I learned that the brand I wanted isn't expanding their dealer network and I also learned they wouldn't work with me as a small retailer. But that's OK. There are plenty of other brands and products out there and can be found in the Directory to resell. Their helpful research team pointed me in some great directions and gave me some suggestions of other things to look at.
Who knows better what is in this Directory that the creators of it. Use that Research Team! They are a FREE benefit of being a Worldwide Brands Member. You might not always get the answer you want, but it will be an HONEST answer! They won't waste your time!
Is Worldwide Brands A Scam?
I have been a member for a long time. They are definitely a legitimate company. They aren't scammers. I mean they have been providing this service for well over 20 years! The value of what they offer far exceeds the price they charge. There is no way I could have done this research myself for $300 for THIS LONG and it would have cost me an enormous amount of time that I don't have when starting my business and beyond.
My conclusion & the purpose of this Worldwide Brands Review is to tell you that the WorldwideBrands.com Directory is well worth $300. For beginners and experienced online sellers, whether on eBay, Amazon or your own web site, I would highly recommend it. If you think you're better off sourcing products at yard sales, auctions, Craigslist, or even AliExpress, think again. Local sourcing takes way too much time and energy, and place like AliExpress and other directories are just middlemen or sourcing cheap products from China.
Pros and Cons of Worldwide Brands
While there's always a lot to consider about a directory like Worldwide Brands, there are major pros that stand out, and only one con that only seems like a con but actually isn't. In this case, they revolve around Worldwide Brands providing a large, legitimate directory, but at seemingly larger cost.
The truth is that other directories like Salehoo, Doba and so many other wholesale directory offers and options you see out there have hidden costs that they don't tell you about. Beside the fact that the others operate as middlemen (which means less profit for you), the others have monthly fees, annual renewals and more that can actually cost you $1400 a year or more.
Besides being the only fully legit wholesale directory I've found, one of the biggest Pros of Worldwide Brands is their price is "one time, lifetime", as they advertise, and it really is. Buy it once, own it forever, and get new wholesale suppliers added every week.
The Best Alternative For Worldwide Brands
I've gotten emails from people asking what they should use instead of Worldwide Brands. It's taken me a while to try out a few different services and nail down what that I trust enough to recommend to you guys.
After all that research, I can tell you that the best alternative for Worldwide Brands is that there is no legitimate alternative. Their Directory is what you need, no question.
What you get with a Worldwide Brands Directory Membership
Here are a couple of quick bullets to recap the Worldwide Brands Directory of Wholesalers, Drop Shippers and Light Bulk Wholesalers:
Worldwide Brands has a directory of over 8000 suppliers
Over 16 million products available at wholesale
No middlemen. You deal directly with the wholesale source; you do not buy products through Worldwide Brands, so there are no hidden markups in price
Market Research Tool to help you find products that are selling well and are likely to have good profit margins
It has a comprehensive video training center that will help you get started if you are completely new
Worldwide Brands provides recommendations for carefully vetted resources and education materials that will take your business outside of eBay if you choose to
All for a far lower price than what you would pay with another directory. Considering all the hidden fees, renewals and middleman markups.
Worldwide Brands Review 2023 Summary
My Worldwide Brands Review: I think Worldwide Brands beats every other wholesale directory by far. The team over there is constantly working to maintain and make the Directory better. Overall a much better choice for the money. You can use the money you save to buy products and get to flipping them. This membership has paid for itself over and over.
The only way to make money online through eBay or elsewhere is to take action. My recommendation is to give Worldwide Brands a shot and start sourcing some different products to flip to get the ball rolling.  I was able to obtain a whopping $100 off 2023 Worldwide Brands Discount Coupon and you can get it here too!  So now you can get the Worldwide Brands Directory and all that quality information and education for:
     $199!
If you are an existing seller and looking to take your eBay selling, Amazon store or online site to the next level, or if you're just getting started in this business, I highly recommend Worldwide Brands. If you don't have this, you're not sourcing at wholesale.
Best of luck to you in all you do.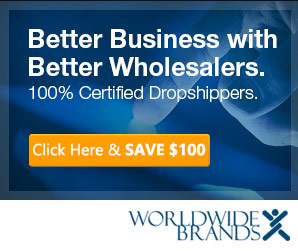 Helpful Links:
Save $100.00 off the price of the one time fee to the WorldwideBrands.com Directory HERE.
Worldwide Brands Facebook is HERE.
WorldwideBrands.com Twitter is HERE.
Find WorldwideBrands Instagram HERE.