Marvel Authority Private Blog Network Review
A couple weeks ago, I wrote a review of the Rank Hero Private Blog Network. It's the first PBN that I've reviewed, and I suggest checking that post out if you haven't yet. Today, I'm following up that post with a review of another pretty popular PBN service — The Marvel Authority Private Blog Network.
I'm sure most of you know that private blog networks are all the rage right now for internet marketing and link building. They've shown to be very effective for boosting rankings, and they're harder for Google to trace than some older link building methods that Google didn't care for (i.e spamming Ezine). In order for a PBN to be effective, they need a few key elements:
Blogs with good page authority and domain authority
Niche oriented blogs, not article factories
No footprints
Quality content on the blogs
New blogs added to the network regularly
There are other things to consider too, but those are some of the most important ones in my opinion. Does the Marvel Authority Network hit the mark on these points? You'll have to read and find out!
This review is based off my personal experience with the service. I ordered two bronze packages for the same site. My results with this service are at the end. 
How The Marvel Authority Link Network Works
For those of you who read my Rank Hero review, Marvel is a bit different. With Rank Hero, you basically are just getting access to their network of blogs. Marvel is a complete service, where all you have to do is provide the information for your site, and they take care of everything else.
The Marvel sales page makes some pretty big claims: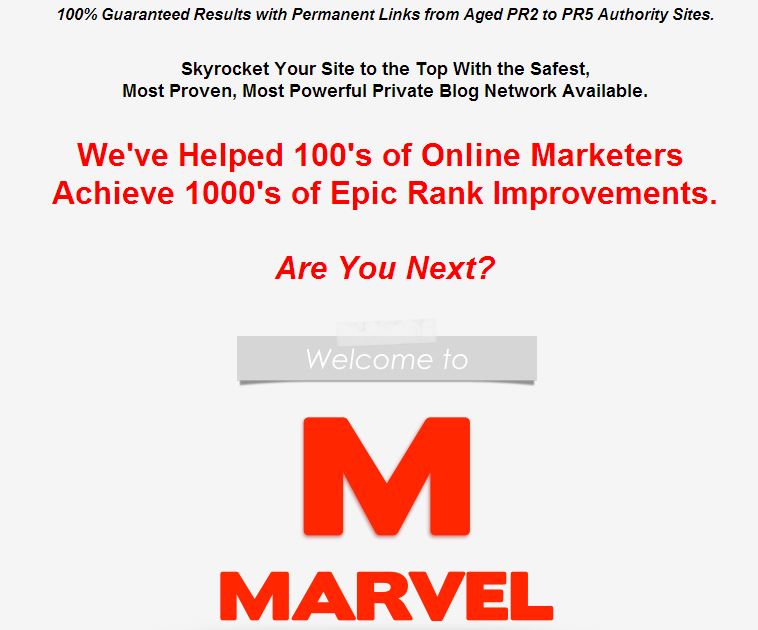 Ok, that's a very bold statement. They guarantee you an increase in rankings or you get your money back (there are some stipulation on that though). Usually that's a red flag for me, but with all of the pics they posted with proof of ranking increases and the amount of time the service has been running, it gave me confidence in them. I won't lie, Marvel's sales page is very strong and compelling.
Sorry to keep comparing this service to Rank Hero, but since I've reviewed them both, it will help give you guys a reference point. One of the biggest differences between the services that I noticed was that RH advertises their sites page authority and domain authority, and Marvel pushes the PageRank of their sites. Their sites are PR 2 to PR 5.
In my opinion, page authority and domain authority are better indicators of the power of a site and how powerful a link from a site will be. PageRank has been a highly debated topic in IM over the past few years. I'm not saying that I don't think PageRank matters, but if I had a choice between getting a link from a PR 1 site with high domain and page authority or a PR 7 site with no page and domain authority, I'd pick the PR 1 site.
The Order Process
Ordering is really easy and straightforward. You just have to fill out a simple form with info about you, your site, and keywords. In order to be eligible for their ranking guarantee, you have can only use a maximum of 2 URL's and 3 keywords. This is important to remember when you're filling out the form. There are a couple of other options you can select that you should pay attention to also.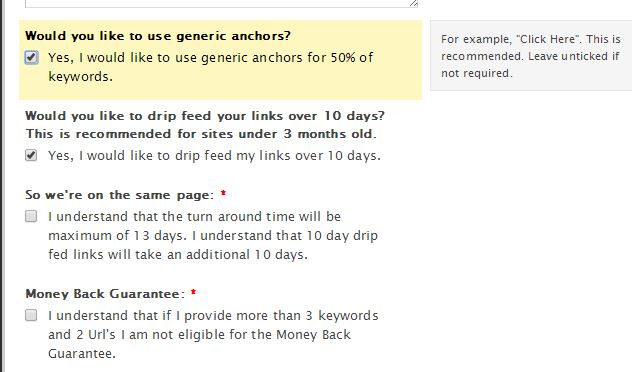 The first option is "Would you like to use generic anchors?" This refers to using generic anchor text like "click here" or "more info" instead of your exact keyword. Marvel recommends using this option, and I agree. In 2014, you shouldn't be sending a bunch of exact match anchor text to your site.
The second option is drip feeding your links over 10 days. It's a nice option to have, but not necessary in my opinion. Back in the day when everyone was blasting their sites with thousands of backlinks with the exact same anchor text, link dripping made a lot of sense. But for PBN's, you shouldn't need to drip feed the links.
After you place your order, you'll get a confirmation email that your order was received, and then another one when they actually start your order. For my orders, it only took a few days to receive the "your order is in progress" email which isn't bad. After that, you just have to wait until your order is complete and they'll send you a report.
Marvel Authority PBN Pricing
One of the reasons I've been making comparisons between Marvel and Rank Hero is because of their pricing. They are within the same range, except Marvel has cheaper options. There are 4 packages total:
Starter Package – 12 Posts – $99
Bronze Package – 25 Posts – $180
Silver Package – 50 Posts – $300
Gold Package – 100 Posts – $550
I ordered two of the bronze packages a couple months apart. Overall, the pricing is pretty reasonable as far as private blog networks go.
The Content
This is one of my gripes with Marvel. Right now, we're at a point in IM and SEO where content has become extremely important. With the articles for Marvel, they supply them and they're only 250-300 words each.  So they are more "blurbs" than full on articles, which is what I would prefer.
The quality of the articles themselves is probably around the quality of articles you could have written for $0.80/100 words. This isn't a huge problem since these aren't money sites. One thing I'm not sure of is whether or not they will let you supply your own content. It would be a nice option so that you could get your links in 500 word articles instead of just blurbs.
Quality of the Sites
Remember in the beginning when I said one of the most important parts of a PBN is that they are niche oriented? The blogs that I've seen from Marvel aren't categorized or niche at all. This is a problem for me. Even with Rank Hero, the blogs aren't necessarily all in one particular niche, but they are built out to be like real blogs made by an actual person or at least about a certain topic.
The blogs I've seen from Marvel are kind of all over the place. Does this mean the network is "bad" or ineffecient? Not at all. But one of the most important aspects of SEO these days is context. Having an article about weight loss on a health site with a ton of articles about exercise and eating healthy is more effective than having an article about weight loss on a site that also has articles about credit checks, dog training, and remotes. The direction we're heading into with SEO is that anchor text is becoming less relevant, and the context of the sites where the link is coming from is becoming more important. Re-read that sentence, because it's going to be very important for anyone doing SEO in the next few years.
Marvel doesn't give you all of the URL's to your links. This isn't unusual for PBN's. In the report, they give you some of the URL's so that you can get an idea of what your links and articles look like. From the links that I saw, the sites do have PageRank, and some of them have decent page and domain authority too which is nice. Overall, the quality of the sites are ok, but I think eventually they're going to have to do something about making the sites "themed" or more niche.
My Results From The Marvel Authority PBN Work?
Here are the results I got after ordering two of the bronze packages, for a total of 50 links, and $360. I ordered my first package at the end of April, it was completed in the middle of May and they recommend waiting a few weeks to see the results. So I waited and placed a second order in the beginning of July.
About my site:
These results are for my primary keyword. The keyword gets 3600 searches/month. The site is an exact match domain (EMD). Here are the sites in the top 10 for my keyword (courtesy of Long Tail Pro):

I made the site with a similar format as Spencer's case study site. And it has about 50 500+ word articles on it. So overall, I would rate this keyword as low to medium in competitiveness.
My Final Thoughts
I don't think I will be doing another order from Marvel. I didn't get the results that I was hoping for with the money I spent ($360 total). I didn't get the type of results as other people have gotten apparently (according to the screenshots in the sales thread). My suggestion would be to start out with the starter package first to see what type of results you get. It did improve my rankings, but not nearly as much as I think other services would have.
I have another PBN that I have my eye on that I want to try out. Don't worry, I'll be sure to write a review for it after I've given it a try.
Have you tried the Marvel Authority Network? Let me know what you thought about about it in the comments. I'm always looking for new link building services and private blog networks to try, so feel free to recommend some good ones (don't be pimping out your own services in here though).