Rank Hero Private Blog Network Review
Update 9/22/14: Rank Hero is shut down. Looks like Google found sites in the network and started handing out penalties to sites who have links from them. For more info, check out this post from Spencer: Alright Google, You Win. 
If you're looking for an alternative to Rank Hero, read my Linkvana Review.
WTF is an internet marketer to do these days? Every popular method of building links always meets the wrath of Google. Even guest blogging, which used to be one link building method that both the white and black hats agreed was great, came under fire by Google earlier this year. I'm still a huge supporter of guest blogging, and I think people got way too scared and freaked out for no reason.
My point in all of this is that Google is really trying to make it hard for online marketers to build links and increase their rankings. Basically every popular link building method that starts to be effective eventually gets shut down. But recently, a newish way to build links is really starting to gain a lot of traction. Private Blog Networks.
Since this isn't a post about how to make PBN's, I'll just give a brief synopsis, and refer you to a couple of awesome posts from people I respect and have some great info you should check out. Basically, a PBN is exactly what it sounds like. It's a group of blogs with high metrics (page authority, domain authority, PR, etc.) that marketers build to rank their websites. The blogs in the network are unconnected, meaning they don't link to each other like a link wheel. They're also usually hosted under a wide range of hosting accounts, and are built on expired domains. That's a really basic definition of a PBN. For more info on them and how they're built, here are some really great articles:
Why Google Pushed Me To Build a (Bigger) Link Network – Viperchill
Building a Private Blog Network The Right Way – Cloud Income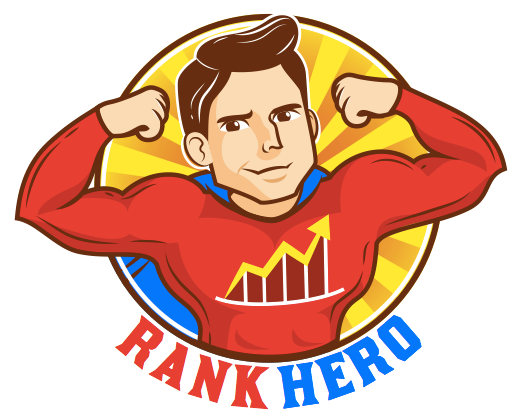 Enter Rank Hero! Rank Hero is a private blog network created by niche site expert Spencer Haws and PBN expert Hayden Miyamoto. You've seen me mention Spencer before in my review on his keyword research tool, Long Tail Pro. He teamed up with Hayden to launch this new service aimed at helping marketers rank their sites. As Spencer puts it on his site:
You can think of Rank Hero as a high quality group of sites that Hayden and I own, that we are allowing you to post content to or that you can use for "guest posting"
So you're essentially paying to access their PBN. I've used several different private blog networks recently. Mostly because it's what most SEO services are using these days. So I'll give you some insight into what I think about Rank Hero, show you the results I got, and let you know whether or not I liked it as much as I love LTP.
 How Rank Hero Works
Rank Hero works on a credit system (more on pricing later). Each credit is worth one blog post. Now, that credit does not include content. You have to write the content yourself or outsource it. Each blog in the network has it's own unique personality to it. This is one of the key differences between Rank Hero and other PBN services. They are built to be real blogs, not the content farms that blogs in other networks are. One of the blogs available might be from the perspective of a working mother that gives health tips or a political focused blog by a hardcore Republican.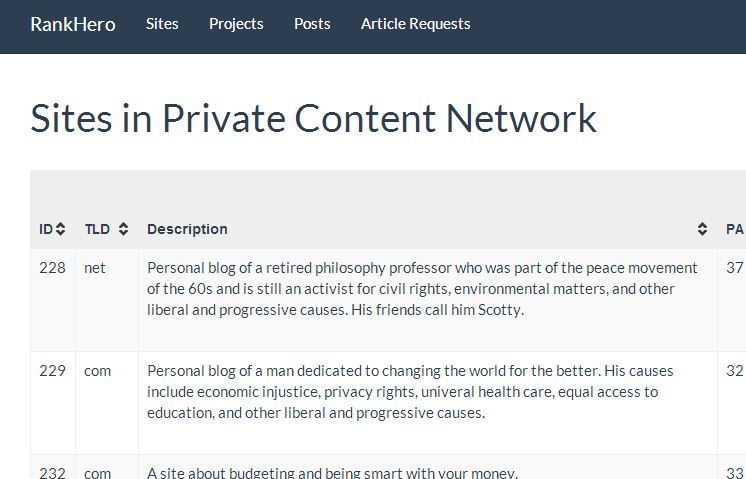 At the home screen (also the sites screen), you'll see a list of all of the available blogs for you to post on. These blogs get refreshed routinely so you don't have to worry about running out of blogs to post on.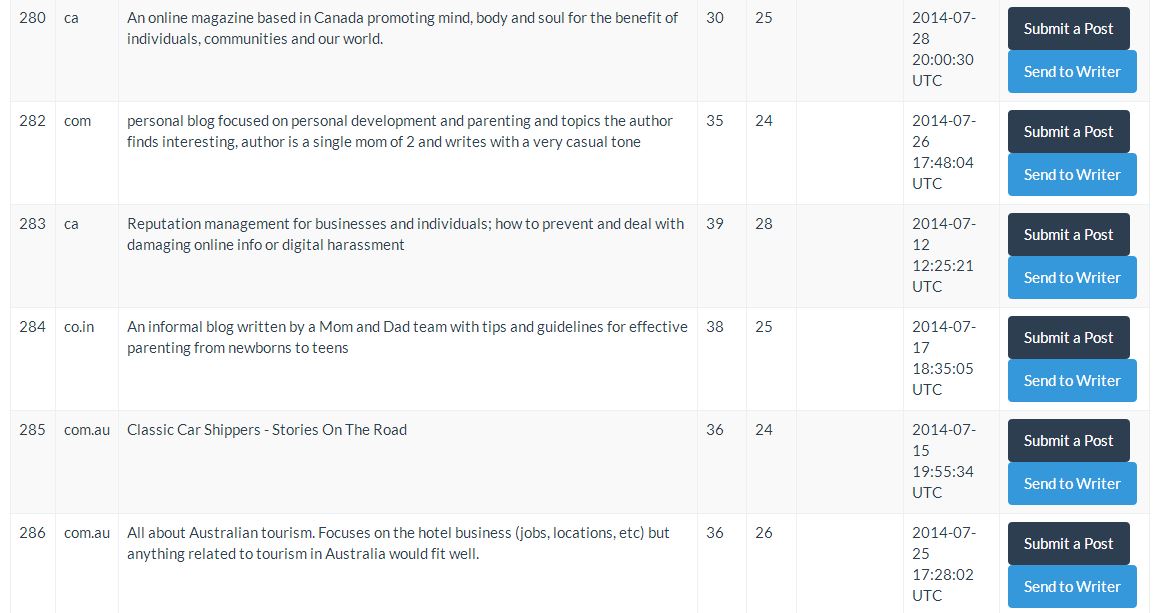 Basically what you see in the above is:
Column 1: ID's to specify the blog
Column 2: The TLD of the site. Most of the ones I've seen so far are .com, but there's a good mixture
Column 3: A description of the blog
Column 4: Page authority (PA) of the blog's home page
Column 5: Domain authority (DA)
Column 6: Any site that you've assigned to that blog
Column 7: The next date available for a post to be published on that blog
Column 8: The button to either write your post, or send the info for the blog post to a writer

The next section is where you create your projects. A project is just a way to keep your posts organized. I created a project for each site. But you could also create a project based on a group of sites or a certain niche. When you actually make posts, you can assign them to a project. Not much to see here.
Under the "Posts" tab, you can see all of the posts you've written. I was going to put a pic to show you what it looks like but almost the entire thing would be blanked out because it shows the URL of the blog your post is going on, the title of my post, and the project I assigned the posts to. Tor obvious reasons, I don't want to reveal that info. Sorry, I can't share it all!
Writing  Posts For Rank Hero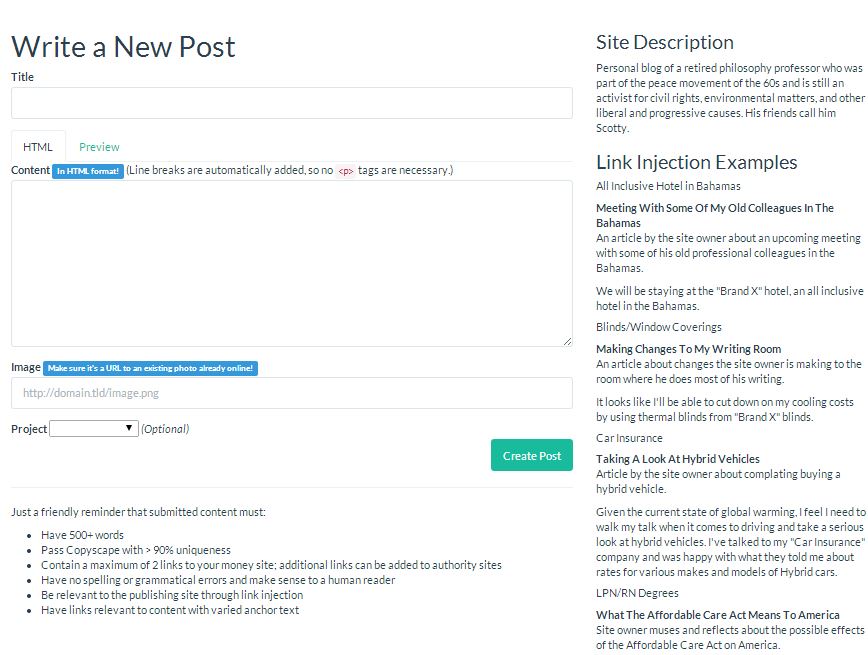 This is where the real work comes in. You'll notice at the bottom there are the rules for posting on the Rank Hero blogs, which are:
Have 500+ words
Pass Copyscape with > 90% uniqueness
Contain a maximum of 2 links to your money site; additional links can be added to authority sites
Have no spelling or grammatical errors and make sense to a human reader
Be relevant to the publishing site through link injection
Have links relevant to content with varied anchor text
Your post has to be submitted in HTML format. There is no WYSIWYG editor like WordPress which kind of sucks. What I did was write my posts in the WordPress editor of one of my sites, then copy the HTML format and paste it into Rank Hero.
You're probably curious about what the heck the Link Injection stuff is all about. An easy way to describe link injection is it's a way to include links to your site even if the blog you're posting to isn't directly related to yours. Rank Hero will give you a few suggestions on how you can link to your site, and still fit the theme of the blog in the network so it's RELEVANT.
For instance, the blog in the screenshot I posted above is by a philosophy professor who is kind of a hippy. If I was trying to link to my site about car insurance, it might seem weird to make a post about the best car insurance deals. But with their link injection, Rank Hero gives you suggestions on what you could write about and how to link to your site. They suggest a post about hybrid cars, which is a great way to include a link to a car insurance site somehow. They have a downloadable video available that gives more details about link injection, but it's not that complicated.
After you've written your post, you can preview it and then publish it. Each post is manually reviewed before they post it on the blog. Once it's published, you'll actually be able to see the blog it was posted to and your blog post live. That's pretty much it for the "technical" aspects of Rank Hero and how it works.
What Sets Rank Hero Apart
Like I said, I've tried other Private Blog Networks before, and I'm always testing out new ones. There are some pretty big differences between Rank Hero and other ones I've used.
First and foremost is the quality of the sites in the network. These blogs are built out and are made to look like 100% real blogs written by real people. That's a big advantage. With other networks, the blogs are almost just like article directories with a bunch of random posts. That makes the blogs look completely natural to Google, which works in our favor because relevancy is extremely important for contextual links.
Second, they don't use page rank to determine what blogs are in the network. Instead, they look at page and domain authority, which are much better indicators of what type of link juice you'll be getting from your posts.
Third, you get to pick what blogs your posts go on (based on the blog's description). You get to see the page and domain authority, and the description of the site before you submit your post. With other PBN's, you have no control over where your posts are going.
Fourth, Spencer and Haydo are very transparent. I've used very few networks that will actually give you links to your published posts. Most claim it's to keep their networks safe, and I can understand that. But on the other hand, I've gone through and found the posts that other PBN's have made for my sites by checking my backlinks, and I wasn't happy at all with what I saw. So being able to see all your posts on Rank Hero shows that they really stand behind their network.
The backend for Rank Hero is also extremely simple and easy to use.
Rank Hero Pricing
So how much does Rank Hero cost? Like I said, they work on a series of credits. There's 3 packages:
Standard: $197 – 5 Credits ($39.40/post)
Professional: $297- 10 Credits ($29.7/post)
Agency: $669 – 25 Credits ($26.76/post)
Each package is a monthly subscription that will automatically renew unless you cancel and you cancel anytime. If you have credits left over when you cancel, you get to keep them and use them whenever you want, they don't expire.
You might be thinking that the pricing is really high. And you'd be correct. Other private blog networks on Black Hat World, Wickedfire, and Warrior Forum can range from a few bucks per post to $10 or $20 per post, and they include the content. Some people sell posts on their PBN on Fiverr for $5/piece. So Rank Hero is definitely at the top tier in terms of price. That's probably one of my only gripes about it. I'd probably feel a little better in the $10-$20 per post range. Because at the cheapest price range ($26.76/post), you could actually pay someone to write a post and find your own blog to post it on. You can find writers for $2/100 words that write pretty darn good.
My Results From Rank Hero
I only used 4 blog posts. 3 were on one site, and one was on another (I still have one credit left to use). These results are for the site that I used 3 credits on. During the period, I didn't do any other link building for this site. Here is the growth of my keywords from June 30th when the first post was published until the day I'm writing this post (July 24th).

The numbers on the left hand side are not my rankings, they're the increase in ranking spots. So my overall keywords increased over 220 spots from June 30th to July 24th. Prior to using Rank Hero, all the keywords were on their way down, and other link building methods I used were pretty much ineffective. So these are huge improvements from just 3 posts!
Is It Worth It?
I think Rank Hero is worth trying out. The links are very high quality, which isn't something I can say for every private blog network I've used. It's clearly a service aimed at online marketers with larger budgets. Beginners more than likely won't be shelling out $670 for 25 posts. Even $197 for 5 posts might not be doable for people just starting out. Especially since it doesn't include content.
But if you can afford it, give it a go. I may do a real in depth case study on Rank Hero on one of my sites that has never had any type of linkbuilding done on it and see what happens. Have you tried Rank Hero? What did you think?