Best Keyword Tool Ever?

Keyword research is one of the major building blocks of internet marketing. Whether you're making micro-niche sites, running ads, or building an authority site, keywords are hella important. Manually doing research to find keywords takes a LONG time, and it's pretty much impossible to get the information you need without the help of tools.
One of the most popular, if not the most popular keyword tools on the market is Long Tail Pro. It was created by Spencer Haws, who owns the blog Niche Pursuits. In addition to this nifty product, Spencer makes his online income by creating niche sites. I'll do a write-up on niche sites later on. But for now, just know that niche sites are small sites all about a targeted niche. For instance, one of Spencer's niche sites is about survival knives.
I'm a big fan of Spencer's site and what he does, but this post isn't about them. Feel free to read his "About Me" page to learn more about him and his journey. This is all about Long Tail Pro (I'll abbreviate it as LTP from here on out).
Honesty Is The Best Policy: This post contains affiliate links. If you use my affiliate link to sign up for Long Tail Pro, I will receive a commission. I only recommend products/services that I personally use and suggest!
ABOUT LONG TAIL PRO
Before I get into what I like and don't like about LTP, I want to give you a little background on what the tool is used for. As I mentioned in the intro, LTP is a keyword research tool. What separates it from other keyword tools is that it's specifically built to help find long tail keywords that have LOW COMPETITION.
A lot of marketers use tools like the Google Keyword Planner, Ubersuggest, or others, but what these products/services lack is the ability to show you how hard/easy it will be to rank highly for the keywords they suggest. That's the beauty of LTP.
The 3 major selling points that LTP uses are:
Faster keyword research
Ability to analyze competitors on Google
Check where your site ranks for keywords
Basically, LTP is a one stop shop for finding and analyzing keywords. You enter in a seed keyword ("belts" for example) and LTP will give you a list of related keywords and detailed information about each one by using data collected from a variety of sources including AdWords, seomoz, and others.
The program comes in two different versions:
Long Tail Pro
Long Tail Pro Platinum
The difference between the two is that LTP Platinum comes with a few extra features, most notably the Keyword Competitiveness Calculator. Here's a complete overview of the features of both: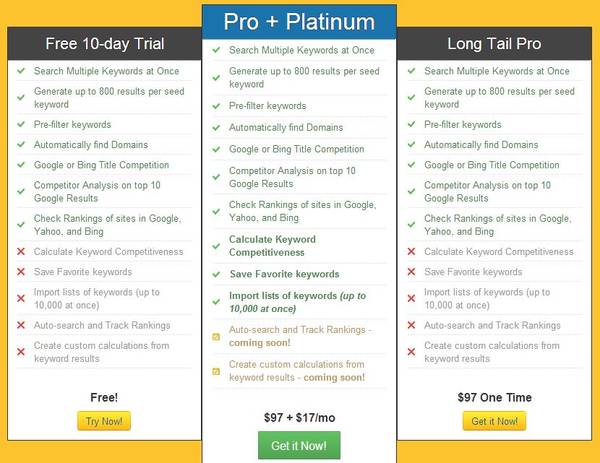 Later on, I'll let you know whether or not I recommend going with the regular subscription or the Platinum and explain why.
LONG TAIL PRO FEATURES
Now we get into the fun stuff. Even though LTP has been out for quite some time, I just recently started using it, and got a chance to test out ALL of the features it offers. Since I'm using LTP Platinum, my screenshots will have all of the features. If you just use the regular version, you won't have the KC or Favorites features enabled.
This is what the LTP dashboard looks like. (*Click the pics for the full view)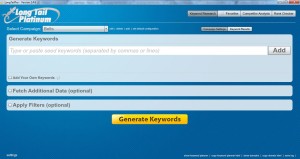 At the top, you'll notice the 4 different tools available in LTP:
Keyword Research
Favorites
Competitor Analysis
Rank Checker
Keyword Research
The "Generate Keywords" bar is where you'll enter in the seed keywords that LTP uses to give you suggestions of related keywords that you can use. In order to help filter your searches even further, you can use the "Fetch Additional" and "Apply Filters" sections which look like this:

You probably won't use all of these different options, but some of the ones I use are:
Domain availability check
Average local searches
Number of words
The domain checker will look for exact match domains for all of the keywords LTP finds. I've bought two EMD's with good search volumes (for niche sites) with the domain search, and can easily find more when I want to.
The number of words and average local search filters are great for narrowing down your searches a little bit. I'll have a separate post that explains more about how I use LTP to find great keywords.
Here are the results for a search I ran for the term "Belt" with some filters selected.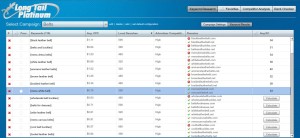 The results are pretty self explanatory except for the KC column. The KC is a scale of 0-100 of how difficult it would be to rank for that keyword. When you click on one of the suggested keywords, you can see the Competitor Analysis of each one.
Competitor Analysis
Here's what the competitor analysis results look like: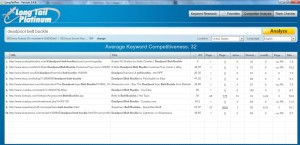 This is probably where you'll spend most of your time in LTP.  LTP analyzes the top 10 Google search results for the selected keyword. If you're wondering why they only show the top 10, it's because Spencer's belief is that if you can outrank the top 10 sites, the other ones don't really matter. I to agree.
LTP bolds the keyword in the URL and page title. The other stats you get here are:
Keyword Competitiveness (rated 0-100)
Page Authority
Number of backlinks to the PAGE, not the domain
Juice page links (the number of sites that pass "link juice" to that page)
MozRank
Google page rank
Age of the site
If you find any keywords that you really like and want to save for later, you can Favorite them to save them for later. When I get a list of good keywords, I like to export the entire list.
Rank Checker
The last feature I want to go over is the Rank Checker. This is pretty straight forward so there's not much to talk about here. You just enter a URL and keyword, and LTP will let you know where you rank in Google, Bing, and Yahoo.
Here's what it looks like: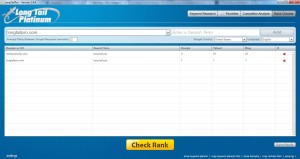 I will caution you that if you're going to be running the rank checker on a bunch of keywords, change the "Average Delay" time so that you don't set of the search engines' alarms for running mass queries.
WHAT I LIKE ABOUT LONG TAIL PRO
If you haven't been able to tell, I really like LTP. Honestly, it's the ONLY tool I use to do my keyword research now.
To start off, it's extremely easy to get started. I hate programs and tools that require watching 30 minutes of videos and reading through a manual to learn how to use. I'm a simple guy and I dig anything that makes my life easier.
LTP does everything the sales page promises. They keywords that it recommends are actually related to your search (unlike some other tools) and give you some great ideas.
I really like the competitor analysis feature. The ability to have all of that information on one screen is great. And LTP gives you the information that you actually need in order to analyze whether or not you should try to outrank your competitors.
Spencer even paid attention to some details that other people would have overlooked. The little things matter a lot to me. For example, in order to visit the top 10 competitors, you just have to click on the URL in the program and it will open up in your browser. And putting the keywords in the competitor's URL and page title in Bold text so that it's easy to recognize is another detail that makes the entire program more user friendly.
You also don't have to re-sign into LTP, Google Adwords, or SEOmoz every time you launch the program. Like I said, I'm simple and like anything that makes my life easier. So all of those details really help me out.
LTP also saves the settings for all of your different campaigns. For example, If I run a search for my "Belts" campaign today, and come back to it a week later, all of my search settings will still be saved.
Lastly, LTP runs smoothly. My laptop isn't the greatest (I really need to get a new one) and LTP has no problem running even when I have other programs up.
WHAT I DON'T LIKE ABOUT LONG TAIL PRO
I'm not even bullshitting you when I say that there really isn't much that I don't like about LTP. When I first started using it, I had it freeze up on me a couple of times when running keyword searches. But it hasn't happened to me in a long time so it's probably not an issue.
It would be nice if there was some way to be able to just click on the available domains in the results and be taken right to a domain registrar (preferably Namecheap) with the search results up so you can just add it to your cart. As of right now, they just have a link to GoDaddy (who I'm not a fan of) at the bottom of the program.
But you have to manually perform the search within Godaddy. Now that's just me being lazy, but it would be a cool feature if this could somehow be automated.
Other than that, I really don't have any issues with LTP. Even the price ($97) isn't bad at all considering all that you get. It's biggest competitors Market Samurai is $150, so it's a much cheaper option.
MY CONCLUSION
I highly recommend buying Long Tail Pro. Whether you're blogging, making niche sites, or doing anything else that requires keywords, LTP will make your life sooooooo much easier.
As for which version you should go for, I'd say start out with just the standard LTP without the Platinum. The KC calculator is nice, but if you know a little bit about SEO, then you'll be able to get a good idea of the site's on page optimization and LTP will tell you the off page SEO info you need such as backlinks, authority, domain age, and page rank.
LTP is easily the best IM related purchase I've made thus far and is a staple in my internet marketing tool kit. If nothing else, you should give the 10 day free trial a try to see what LTP is all about. Trust me, you won't regret it.